I own an iPad and have had the Samsung Galaxy Tab on loan for review for a fortnight now, during which I've tried to make use of it as my primary tablet and do all the things I normally do with my iPad.
First off, there are some obvious differences between the devices:
iOS v Android 2.2
9.7″ v 7″ screen and corresponding device size
App Store v Market
However the key differences for me are focussed on using them as companion device, I've used a Dell Mini 9 for the last 2 years and during that time I've needed less computing power and simply more 'information access' to do my job. More and more work has shifted to being browser based or accessing information remotely via Dropbox or Evernote.
I think a lot of people like the idea of a smaller iPad type device, which is why the Galaxy Tab has sold reasonably well (just not as well as originally reported), but as shown by the reported high return rate, I think many people that use the tab for moe than 10 minutes either feel the extra 2″ in screen size is too much to part with or don't get on with Android OS as well as iOS.
Android OS is definitely an issue, Android 2.2 (Froyo) is primarily a phone based OS, and while it works it's not really tweaked for a tablet environment. See the CarryPad article on '50 Ways to Improve the Galaxy Tab' as a good example of this, many of which relate to the usability of Android 2.2 on a large screen tablet. Android 3.0 (Honeycomb) will be the version of Android that is better suited for tablets, and in fact some manufacturers have delayed releasing tablets until this becomes available. When using the Tab, while everything was acceptable and worked, it just wasn't as smooth or refined as the experience on the iPad.
The other issue is the size – a 7″ screen versus a 9.7″ screen doesn't sounds like much of a difference, but it amounts to the Tab being nearly half the size of the iPad, as the image below demonstrates.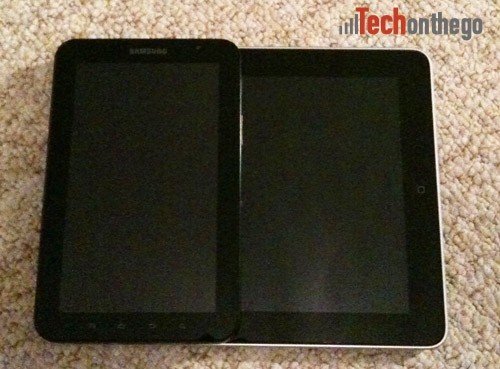 For me this lost real estate is crucial. When I travel the iPad comes with me, it may be larger and heavier than the Tab but its still smaller and lighter than a netbook or laptop, so in a bag there's no issue. Sitting down to use the Tab I feel slightly cramped and as if not enough of the information is being displayed, which quite often it's not. Not only does the Tab have a slightly smaller physical screen but it also runs at the slightly small 1024 x 600 resolution against the iPads 1024 x 768. This is a negligible difference in numbers, but the perception is of more limited space particularly when web browsing or working on a spreadsheet.
A lot of people say the Tab is far easier for ebook reading due to the smaller and lighter form factor, this may well be the case, but it's not a big issue for me. I tend to read sitting on the sofa or in bed and the iPad can easily be propped up as required in my Incipio case, and with the bigger screen and Kindle Software's variable zoom I can have it a comfortable distance away from me too.
The only scenario where the tab works and the iPad doesn't, is being carried on me, either in a coat pocket, or in the back pocket of some jeans. And not even a Scott eVest 'gadget' coat, just a regular coat! The Tab is very hand for this, there is very little noticeable weight and it means you don't need to bring a messenger or laptop bag. This may be important for some people, which is fine, but I don't need that level of portability, my iPhone does for those moments fine. Outside the US our Galaxy Tabs are voice-enabled so you could get down to a single device if you're prepared with a headset or happy to talk on loudspeaker, but in the US you'd still need to carry a mobile phone with you anyway. I typically spend my day either working from home or going out to see clients. I try to group client visits together so will often be out for most of a day, so taking a bag/case with me isn't an issue as I usually need to take other things anyway.
So in summary, while I appreciate the smaller size of a 7″ Tab form factor the portability simply isn't enough of a draw for me. Having the best 'working' environment is the most important factor, and for me, the greater screen size and slight UI refinements of the iPad make that the device I'm sticking with.

This post was written by Rob Gordon, an IT geek, gadget lover and blogger. Rob has been using the internets since 1994 when the only streaming video was that coffee pot in Cambridge (rip)….
Follow Rob on Twitter – @robgordon – about.me/robgordonuk