Yes! The Easter season of Angry Birds, named 'Easter Eggs' will be out on Monday most probably, while its trailer has just been released a few minutes ago by Rovio which can be watched embedded below.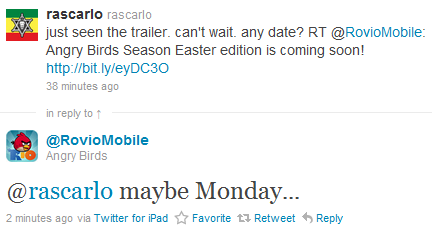 Lately, Rovio Mobile launched Angry Birds Rio for worldwide download and was also available for free download on the opening day of Amazon App Store's launch.
Not to forget, Angry Birds for Windows Phone 7 and its 3D version is already on the verge to launch, apart from the ad-free paid version for Android which is coming this month. The astonishingly famous game, which has been downloaded over 50 million times and has been one of Apple App Store's top downloaded apps, features a set of bad-tempered birds, who the game-player launches through a rubber slingshot to obliterate many green pigs who've actually stolen the birds' eggs. Rovio is making 1 million dollars a month with the advertisement in the game alone.
The Angry Birds game has already been tied to an upcoming animated Hollywood film, Rio and you might also like to know about its Windows XP and Windows 7 version, if not the Valentine's Day special edition, which are all a proof of how grand this game has become to the world now a days.
Social Media Consultant/Blogger/Developer/Optimizer
"Technology gets birth under the nails of innovators"