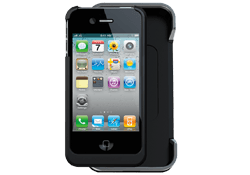 Powermat, founded in 2007, was the first company to perfect inductive-based wireless charging and bring it out to consumers at an affordable price. They have a range of options to add inductive charging capabilities to phones, MP3 players and gaming devices ranging from replacement battery covers, to customised cases. Once you have the 'receiver' for your device you can set up to three of them down on the Powermat Charging  Mat for safe wire-free charging.
And Powermat is looking to get their technology directly into manufacturers, at this years CES Powemat announced an agreement with GM that will eliminate the need for charging cords for personal electronic devices in many future Chevrolet, Buick, GMC and Cadillac products beginning mid-2012. We're really looking forward to that kind of agreement coming to UK cars.
"Imagine a mat or shelf where you could put your iPhone, your Droid or other personal device and charge it automatically while you commute to work, run errands or as you're driving on a family vacation," said Micky Bly, GM's lead electronics executive, including infotainment, hybrids and battery electric vehicles.
The Powermat range of receivers and charging mats are available from Amazon UK and Carphone Warehouse, prices vary depending n what configuration you need, but as an example the iPhone bundle including case with built in receiver and charging mat is available on Amazon UK for £37.72. We should be getting one in to test shortly so we'll let you know what we think!

This post was written by Rob Gordon, an IT geek, gadget lover and blogger. Rob has been using the internets since 1994 when the only streaming video was that coffee pot in Cambridge (rip)….
Follow Rob on Twitter – @robgordon – about.me/robgordonuk