Griffin Technology announces its AppPowered Accessories range of products that integrate apps and the technology device itself, and Griffin expects this to be a key growth area in the coming years.
New to the UK market from Griffin this month are the Crayola ColorStudio HD, Beacon and the DJ Cable.
Common to all three products is the unique link that each has to a specially designed app to improve capability and add to the products functions.  The performance and user experience is greatly enhanced by the way that the product and app work together.
Griffin has collaborated with specialist companies to develop these products; well-loved children's drawing brand Crayola for its ColorStudio HD, software developer Dijit for the Beacon and creator's of the Djay app, algoriddim for the DJ Cable. These relationships allow both parties to deliver the best possible product to the consumer and enter markets that may have previously been inaccessible.  Griffin provides the technology hardware expertise and its partners offer valuable market insight to their field of knowledge.
Crayola ColorStudio HD is an entirely new digital play experience, coupling a multi-activity drawing application for iPad (Crayola ColorStudio HD App) with a custom-built digital stylus, the Crayola iMarker.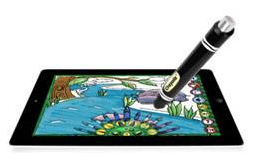 Beacon Universal Remote – Griffin has partnered with software developer Dijit to turn your favorite iOS or smartphone device into a Universal Remote Control. Beacon allows fingertip control of your entire entertainment system, thanks to hardware and app integration from Griffin and Dijit. Available this month from Apple stores nationwide and online for £54.99.
Mark Rowan, President of Griffin Technology said:
We are convinced that AppPowered Accessories are the future of the mobile accessories market. Consumer technology has made huge advancements in the last few years in both hardware and software.  Sales in the iOS, smartphone and tablet market are flourishing and the number of applications available is phenomenal.  It is clear to us that interaction between hardware and software is the future of the consumer technology market; enabling the consumer to get the best out of their product.
Scouring the internet for mobile tech, news & tips!