Last month SKY announced it was going to makes its mobile TV service free for existing customers, doing away with Sky Player and Sky TV and combining them into a new App – Sky Go.
The new Sky Go App was released today, and is available in the App Store in both iPhone and iPad versions. Start off by searching for Sky Go and then download the App – it's free to download.
Once installed fire up the App and sign in. You'll need a Sky ID, you can create one on the Sky website here or follow the link in the App. If you're an existing Sky subscriber you can enter your customer number and as long as you subscribe to Sports or Movies they will be available on your mobile. You can register up to two Sky Go devices to watch a selection of the live TV channels. If you're not a Sky customer, you can sign up to just pay for mobile access at a cost of £15-£40.
Across iPhone, iPod Touch and iPad, customers will be able to access all five Sky Sports channels, ESPN and Sky News, with further channels and devices to be added over time.

On laptops and computers customers will be able to access more than 30 live channels, including all five Sky Sports channels, Sky Movies, Sky News, Sky 1, Sky Atlantic, Sky Arts, MTV, Disney, G.O.LD, Nickelodeon, NatGeo, History, Eden and ESPN, supported by an extensive library of on-demand content.
Once signed in you can browse the current lineup, and select what you want to watch. As with Sky Mobile streaming starts pretty quickly and is of good quality, but I will keep an eye on this as more subscribers start to make use of the service to see if the quality and speed is maintained. As before the iPad App make better use of the screen real estate with a live tv preview window top right in addition to the channel line up. Clicking on this preview window starts the video full screen.
Sky also added they are freezing subscription prices across all TV, broadband and talk products for at least 12 months from 1st September 2011. All of Sky's existing 10 million customers will benefit from the price freeze, as will all new customers who join before 31st August 2011.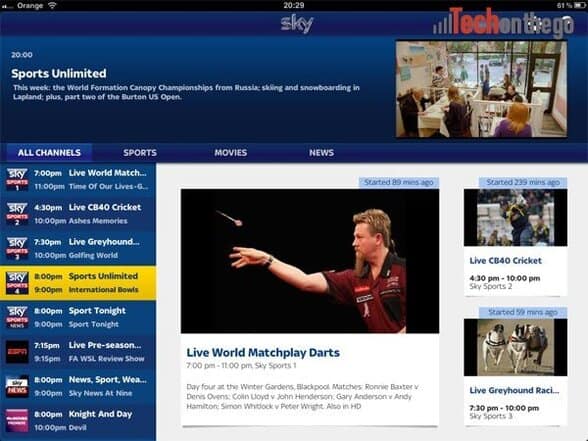 21/7 Update – It seems the Sky Go App doesn't remember your login at the moment, so every session you need to enter your details again. This is pretty annoying after a while and will hopefully be fixed in an update.
2/8 Update – See our details on fast switching of devices to give you more flexible viewing options.

This post was written by Rob Gordon, an IT geek, gadget lover and blogger. Rob has been using the internets since 1994 when the only streaming video was that coffee pot in Cambridge (rip)….
Follow Rob on Twitter – @robgordon – about.me/robgordonuk