So the Facebook "Awesome" event has happened and, as predicted, Mark Zuckerberg has announced integrated Skype Video Chat into it's service. The announcement comprised of three main elements.
Skype Video Chat Integration
You can initiate the service from the new setup page facebook.com/videocalling which will then install the Facebook Video Calling Plug-in required to make it all work. Your friends will then have  small video icon available allowing you to try and video call them.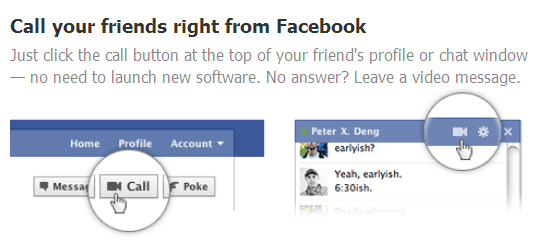 The other half of the newly anointed siblings is the Skype client, that lets you integrate your FB friends and call them directly from there, however you can only do this in Skype 5.5, a beta windows only build.
Once you have logged in to Facebook via the now familiar Facebook Connect login, your news feed appears in Skype, and the Facebook tab shows your friends list.
Facebook Growth
Facebook now has over 750 million users, which equates to one in nine of the world's population. But Mark stated the more important fact was how much data users are sharing, which has doubled in the last year.
Group Chat
A redesigned chat interface allowing chats with multiple friends all sharing the same conversation. Group Chat also works with your existing, you know, groups, so you can fire up a
Scouring the internet for mobile tech, news & tips!