The new SKY Go service was launched a couple of weeks ago, and I've been making good us of it keeping an eye on the cricket throughout my day. Because its now bundled with your subscription for free, SKY have been a bit more restrictive devices you can watch it on – i.e. 2.
I ran into this issue quite quickly, I registered my iPhone and iPad as devices, then went off to register my PC and discovered I couldn't, I'd already max'd out. This was a pain, I wanted mobile TV on my mobile devices, the iPad for its great screen size allowing me to watch something on the sofa while the TV is being monopolised by EastEnders, and the iPhone for it's great portability – I can check on the latest sports scores while killing 5 minutes while waiting for some other task to start or finish. But I also need it on my laptop – the on demand channels aren't accessible from the iOS devices, only on the laptop/pc client can you access the larger library of TV shows that SKY will stream to you.
At first I was a bit annoyed, the service seemed too restrictive and wouldn't give me the flexibility I wanted when I wanted it.
But then I checked with SKY and it seems they have removed the restriction of the old system where you could only change authorised devices once per month, you can now change them as often as you like. So when you access the service on a new (third) device, and receive the message you are out of devices, simply follow the link to your manage devices page, remove one and add the new one! Its very easy, and I switched devices several times during one day to test it out. On an iPhone or iPad you are switched over to Safari to perform the change on the SKY website, it would be nicer if this could be managed 'in App' but it's not a huge issue and is straight forward enough to do.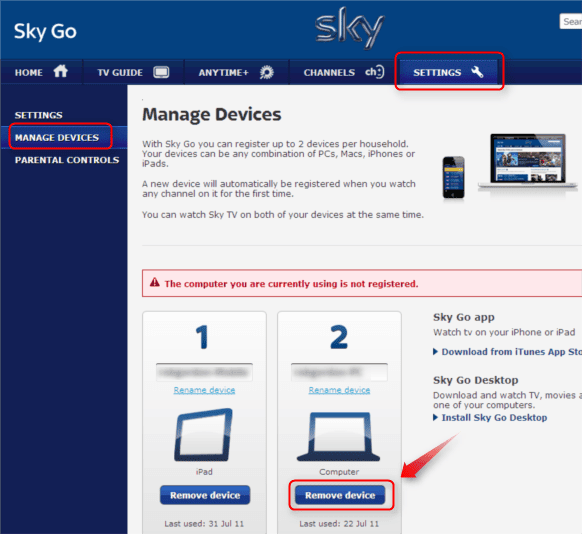 Select Remove Device – and confirm the warning prompt.
And then finally, your device is removed and you're free to connect up with a new one which will be instantly added and ready for viewing.

This post was written by Rob Gordon, an IT geek, gadget lover and blogger. Rob has been using the internets since 1994 when the only streaming video was that coffee pot in Cambridge (rip)….
Follow Rob on Twitter – @robgordon – about.me/robgordonuk