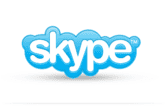 After an earlier false start, Skype for the iPad is now really available in the iTunes store.
Skype's first iPad-optimized app boasts a number of key features designed specifically for the iPad. Skype for iPad users can take advantage of the device's large screen for video calls that deliver up to VGA quality video and is compatible with many other Skype applications, including Skype for iPhone, Windows PCs, Android, Skype integrated into new HDTVs. There is also an improved Contacts layout which displays Skype contacts as large avatars in a grid layout. You can also more easily find and resume recent conversations and calls through an updated history window.
Neil Stevens, Skype's vice president and general manager for product and marketing said:
We've heard the demand for Skype video calling on more devices and we are delighted to deliver on this with our new Skype for iPad app. Skype for iPad gives Skype users the best of both worlds for video calling: the large screen and display of a personal computer, but the portability of a mobile phone. We've taken advantage of the iPad's large screen and optimized the user experience along with making it easier than ever to navigate through the new intuitive interface.
Grab your copy of the Skype iPad App from iTunes UK here.
Lover of all things relating to Social Media, writer for TechontheGo.co.uk, and keen poker player.