Facebook is set for a major change to its social networking site with the introduction of its new feature, Timeline. Mark Zuckerberg revealed plans at the Facebook F8 developer conference on Thursday 22nd September 2011. The new Timeline feature is effectively an update on your personal profile, but instead of spouting the usual blah of 'Recent Activity' the new feature reaches much deeper, by literally documenting your entire life in reverse chronological order. Everything you post, read, watch and listen to will appear through a series of apps, photos and posts in a timeline format, and Facebook will automatically highlight material it considers important.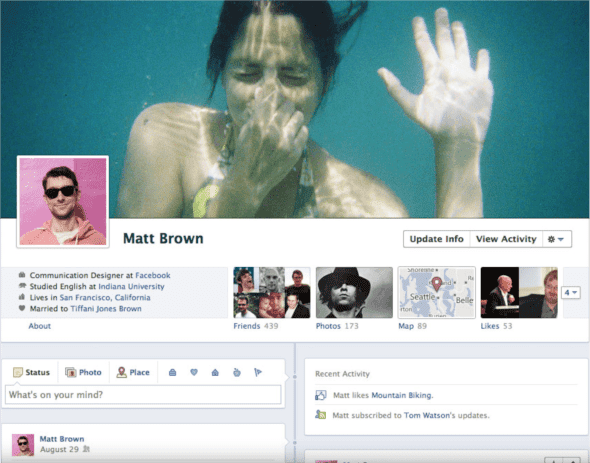 The expansion of the personal content on the site directly links to the expansion of social industries. The immense number of new Open Graph apps will function in sync with Facebook as you use them, creating "seamless sharing". So if you're listening to music online this will show up via an app and your friends can see what you're doing and also listen to the song.
There is no doubt that Facebook's new venture in association with so many social apps will create enormous revenue, but is it really necessary for more information about our online lives to be shared? How much will this impede creativity and originality if we are herded in the same direction as our friends? Only time will tell. Facebook Timeline is currently only available as a beta but will soon be available for all users.
There is an official page to sign up for Timelines (click Sign Me Up at the bottom of the page), but if you're desperate to try it out now, you can sign up for Facebook Timeline using this workaround.