Apple has quietly brought in a micro-USB adapter into its online store, allowing iPhones to connect to a PC or charge from a Micro-USB connector.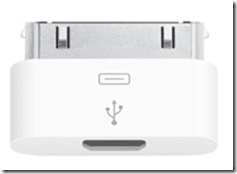 The £8 adapter appeared after the Apple Store came back online from the iPhone4s introduction yesterday, and is the first indication of Apple following up on its promise to comply with the standardised connector which has been adopted by most of the industry. We don't expect the Apple Connector to be going anywhere soon though, and at £8 this adapter is unlikely to be included as standard going forward either.
The adapter is listed as compatible with all iPhone models, but doesn't appear to work with the iPad.
Scouring the internet for mobile tech, news & tips!