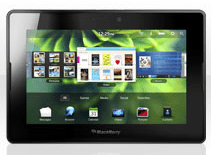 RIM have released the Blackberry PlayBook OS 2.0 out as a free update to all devices. Due to some aggressive pricing reductions on the Playbook from retailers like Dixons, Curries and others many people picked one up and this update will bring some welcome new features, not least of all the final introduction of an on-board email client removing the dependence on a connected Blackberry handset.
Key features of the PlayBook OS 2.0 include:
Integrated email client with a powerful unified inbox consolidating messages from Facebook, LinkedIn and Twitter, as well as personal and work email accounts
Social Integration with Calendar and Contacts apps
Updated BlackBerry Bridge with remote control feature allowing the BlackBerry smartphone to be used as a wireless keyboard with the BlackBerry PlayBook
Improved mobile productivity with updated document editing functions, the new Print To Go app, and increased control and manageability of corporate data with BlackBerry Balance
Thousands of new apps and content (including a range of Android apps that will run on the BlackBerry PlayBook)
David J. Smith, SVP Mobile Computing said:
Building on the BlackBerry PlayBook tablet's proven web browsing, multimedia and multitasking strengths, the new BlackBerry PlayBook OS 2.0 introduces a range of new communications and productivity enhancements as well as expanded app and content support.
Scouring the internet for mobile tech, news & tips!