Tech on the Go examines the latest development in console gaming thus far, the OnLive gaming system, a lightweight, minimal hardware microconsole tv adapter that allows users to own their favourite titles and play them instantly through the cloud, with none of the hassle of owning a console or discs, or indeed even waiting for a file download.
The gaming market was revolutionised in early 2000 when the jump was made from Material Disc to Direct2Drive with the advent of the Steam platform on PC. The main benefit of Direct2Drive gaming was that it afforded gamers the ability to maintain their games library digitally, tying all online ID's, multiplayer statistics, scores and product registrations into a single account and thus, to a single email address and password.
Direct2Drive is not without its problems however, with many users frequently complaining shortly after a D2D release of a variety of problems emerge, from Digital Rights Management protection not lifting to being assigned a key that has already been sold, the resulting effect of these issues is a lack of faith in the services provided, with more and more users opting for a material disc purchase over D2D, despite an increase in D2D releases, it has to be asked if digital downloads are really taking off as well as Sony, Steam and Microsoft had hoped.
Enter the OnLive console, which boasts all of the features and benefits of Direct2Drive games purchases but also includes the added benefit of direct cloud connectivity, allowing consumers to purchase, own, and stream their games without having to download and install them. The device has no video hardware aside from an HDMI output, and no physical memory aside from what the OS needs. It's essentially a barebones doorway into a lavishly decorated room.
One of the most interesting things about the OnLive system is how remarkably small it is, pictured below next to a Blackberry Curve; it's much easier to appreciate just how striking this technology is. Packaged in a slick designer-esque box, the OnLive from the very start makes a point about it's clever size.
The OnLive console itself is only an inch or two wider and thicker than the average smartphone, and sports two USB controller ports and a power button at the front, followed by AC power, Ethernet and HDMI inputs at the back. The supplied controller includes a rechargeable lithium-ion battery pack that charges via a Micro USB to USB connection, as well as a pack that holds AA batteries (Batteries included).
The controller is around the same size as an Xbox360 gamepad, and although it feels lighter and less durable than the control pads of Microsoft and Sony, the control mappings are borrowed from a 360 pad, and so all of the familiar next gen buttons are represented. Two bumpers, two pressure sensitive triggers, two analogue sticks, a directional pad, and A, B, X, and Y buttons give the OnLive a familiar feel.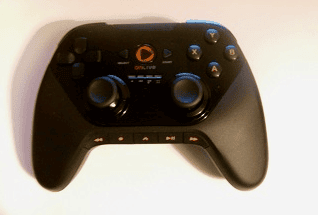 Setting up the console is a piece of cake, provided that users own an HDMI cable in advance, as one is not supplied. The console is connected via HDMI to an HD capable television, via Ethernet to a broadband router, and via the power cord to the mains. Aside from a brief online registration at the OnLive website, that is as far as the setup process extends. It is strikingly simple.
Once the machine is turned on, users are instantly greeted with a swift, smooth OS that navigates fluidly; the deep amber colour scheme on a black backdrop is easier on the eyes than most console OS themes, which are brightly coloured. The OnLive appears to have been built for practicality and minimalistic presentation (in terms of the OS, which works flawlessly with near-to-no loading times, freezing or jitters.)
Another excellent feature worth noting about the OnLive is it's "Brag Clip" feature, which is made possible by a series of media buttons tucked neatly underneath the twin analogue sticks on the control pad. Players can hit the record button any time during gameplay and instantly record their most exciting and impressive moments live. Once the stop button is pushed, these clips get automatically added to the "Brag Clip" section of the user's OnLive profile. It's a very cool feature indeed.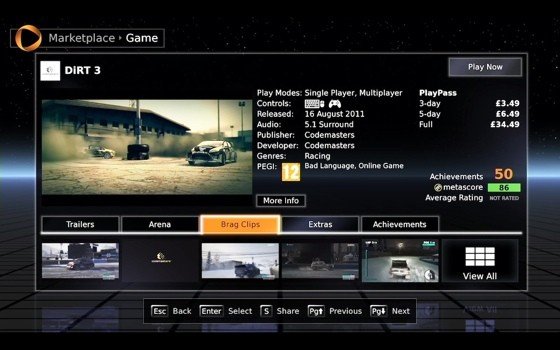 In terms of accessing the OnLive library of games and content, nothing could be easier. The layout is crisp and the categorisation is intuitively presented, users will be hard pressed to get lost in the OnLive catalogue on account of the accurate indexing system. Compared for example to the Playstation Store, in which titles frequently move and disappear, the OnLive catalogue is a resounding success. If users wish to play a demo before making a purchase, at the push of a button they can be straight in, at no cost, playing a demo quite literally, on a whim. The OnLive also offers the unique feature of allowing users to choose from either a three or five day rental period, or to purchase the game in full.
If you like the game, after a quick purchase process the game is instantaneously yours. No downloads, no waiting, just direct play on demand. The result of this is that your router needs to support a wired connection of at least 2MBs, and users would do well to check out the OnLive Website Support section to read up on the process of opening the specific ports necessary to the function of the microconsole in advance to avoid network related frustrations.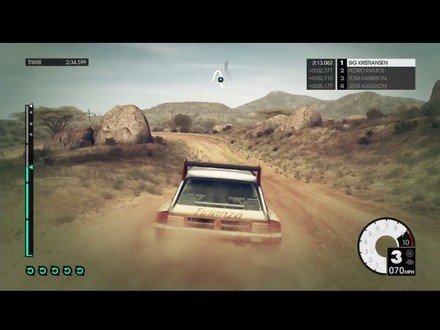 As for graphics quality which is delivered solely through the cloud, as a discerning PC and console gamer, I have to admit I didn't think it would be possible to stream games of this quality without the required video hardware. It is a very surreal experience to see the latest high end titles blaring through a television screen, and to know that all of that content is coming from something no bigger than an A5 notepad.
At around £75.00 for the console and £7.00 for the monthly subscription to the service, after investing in OnLive, the consumer is still around £150 better off than those who chose to invest in a next gen console that uses the Physical Disc and D2D formats. Added to this, OnLive customers enjoy all of their save and game data being stored on the cloud, a service which Playstation charge an additional fee for.
All in all, it seems to me that even if not the OnLive console itself, cloud based gaming is definitely the way forward, and marks the next big step in content delivery and release. This also opens up huge multiplayer possibilities, which no doubt the game development community are already exploring. The OnLive seems to have sauntered into the world of next gen and PC gaming and (to my mind) flattened all competition in terms of content delivery, network compatibility, OS reliability, and hardware build quality.
One of the most affordable and rewarding gaming investments anyone can make this year.