I bought into a Kickstarter project yesterday, the first one I've done, but for a product I believe will be seriously useful in my life!
If you're not familier with Kickstart its described as the "world's largest funding platform for creative projects".
A new form of commerce and patronage. This is not about investment or lending. Project creators keep 100% ownership and control over their work. Instead, they offer products and experiences that are unique to each project.
Kickstarter projects set a minimum pledge level at which they can produce the product, and if people like the idea they pledge varying amounts toward the project, and only get billed if the goal is reached.
So, back to Pebble. Pebble on Kickstarter is essentially a smartwatch which will interface with your phone and provides alerts on calls, messages and emails. It can also run custom Apps expanding its range of functions with examples like a bike computer, runners distance and route tracker, music controller, and even a golf range App. Now, there have been smartwatches/small phone controllers before, such as the Sony Ericsson Live View, but it was plagued with issues such as battery life, connection issues, and requiring custom Apps on the phone to function correctly.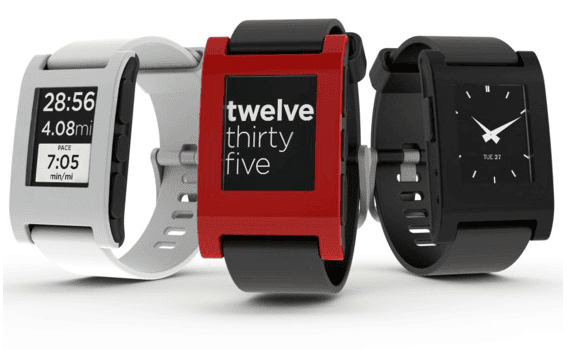 Here are the standout features of the Pebble that made me invest.
Look at it. Its incredibly well designed and sexy. I don't wear a watch, but I'd wear this.
E-ink. The screen uses e-ink technology (like the Kindle) which means it uses far less battery than a normal display. Pebble claim 7+ days battery life!
iPhone compatible – the first smartwatch / controller that's iPhone certified (ios5 or greater)
Android compatible (2.3+) I don't use Android, but if I switch Pebble will still work!
There will be an SDK so 3rd party developers can create their own Apps!
Specifically Pebble can:  Show incoming Caller ID, Display Emails (Gmail or any IMAP email account), display calendar alerts, Facebook messages, Twitter updates and weather alerts. It will also act as a silent vibrating alarm and timer. On Android it can display received SMS messages, but unfortunately Apple does not permit this feature. Its also scratch and splashproof and has a backlight to view the display at night.
Here are the proposed specs of Pebble:
Load apps using Bluetooth
144 x 168 pixel display black and white e-paper
Bluetooth 2.1+ EDR
4 buttons
Vibrating motor
3 axis accelerometer with gesture detection
Distribute apps via Pebble watchapp store
The Pebble Kickstarter project goal was set at $100'000. When I pledged early Thursday morning the goal had been exceeded and was at about $500'000. This evening I received a fantastic email from the shocked developers saying that the pledged amount had just crossed the $1 million mark! It just goes to show you what a great product and the support of a great community can achieve.
The estimated shipping date for the Pebble is September and I can't wait to get my hands on it and test it out. If you're interested in Pebble, you can still pledge money now by visiting the Pebble Kickstarter project.
Check out some of the product images below!
And finally – the video!

This post was written by Rob Gordon, an IT geek, gadget lover and blogger. Rob has been using the internets since 1994 when the only streaming video was that coffee pot in Cambridge (rip)….
Follow Rob on Twitter – @robgordon – about.me/robgordonuk