The Windows Marketplace has now officially passed 100'000 Apps, but for many of the most needed has only just arrived.
People with long work commutes, or even just those who prefer the spoken word over reading have been hankering for the Audible App to make its way to Windows Phone. Its only in the US market at the moment, but the UK should follow soon.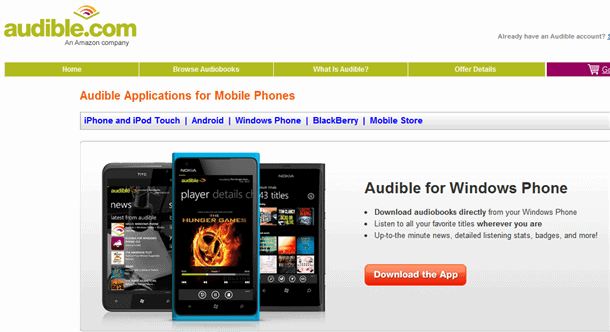 Audible is the leading spoken word application for books and I'm looking forward to trying it out on my Lumia 800 when it becomes available here. You can joine Audible for as little as £3.99/month and for that you get 1 Credit per month, which is enough for most books, with some longer titles requiring 2 credits.
The App was built from the ground up for Windows Phone and makes good use of the Metro style interface. You can share your book via inbuilt connections with Twitter and Facebook.
Source: Audible.com

This post was written by Rob Gordon, an IT geek, gadget lover and blogger. Rob has been using the internets since 1994 when the only streaming video was that coffee pot in Cambridge (rip)….
Follow Rob on Twitter – @robgordon – about.me/robgordonuk