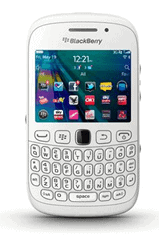 The BlackBerry Curve 9320 is now available online at Three.co.uk and from 31st July in all Three stores.
The BlackBerry Curve 9320 has been reinvigorated with a glossy white finish but still features the much-loved Qwerty keypad that people can use to type quickly on the go. Instant alerts of new e-mails and social network updates will also ensure that even the busiest of users can stay on top of things.
Key features:
• Instant alerts for email and social network updates
• Full Qwerty keypad for easy messaging
• Instant access to your favourite apps
• Access to 9 million music tracks with BBM™ Music
• Mobile Wi-Fi hotspot
• Great battery life
• Up to 32GB expandable memory
• 3.2 megapixel camera
Sylvia Chind, Head of Devices at Three said,
The BlackBerry Curve 9320 is a great smartphone for those who want quality and style at an affordable price. With its refreshing new white colour, this phone is sure to attract fashion-conscious consumers, who can update, tweet and BBM to their heart's content using Three's All-You-Can-Eat data plans on both Pay As You Go and Pay Monthly.
The BlackBerry Curve 9320 in white is available from £15 a month with no upfront cost on the Ultimate Internet 100 plan. Both the Essential Internet and Ultimate Internet plans offer a fear-free mobile internet experience, with a guarantee of no surprise out-of-bundle data charges.
The smartphone is also available on Pay As You Go for £139.99 plus a top-up. All in One 15 costs £15 and gives 30-day access to All-You-Can-Eat data along with 300 any-network minutes and 3,000 texts. All in One 25 costs £25 and offers 500 minutes, 3,000 texts and All-You-Can-Eat data for a 30-day period.
Scouring the internet for mobile tech, news & tips!