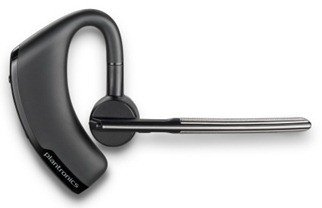 Plantronics have announced their new premium Bluetooth headset, the Voyager Legend.
The latest update to the Voyager range, the Legend has enhanced DSP (Digital Signal Processing) that optimize your voice and minimize noise caused by wind and other background noises using a combination of 3 separate microphones, dramatically improving sound quality.
The Voyager Legend proactively delivers voice alerts to keep you informed of battery level, connection status and announces caller name. The headset also takes voice commands such as "answer" or "ignore" to keep you in control of your technology.
Stuart Bradshaw, head of consumer marketing Europe and Africa at Plantronics said:
Whether you are a mobile professional, commuter, or someone who needs to be connected to friends, family or work, the Voyager Legend simply delivers amazing audio quality in the most demanding environments. From its unique Smart Sensor technology that relays information about call status to the voice commands, the Voyager Legend continues Plantronics legacy of exceptional communication technology and innovation.
Key specs:
Up to 7 hours talk time
Up to 11 days stand by time
Bluetooth® v3.0
Wideband audio
Audio prompts include audio caller ID
A2DP for audio streaming
Multipoint technology
Headset battery meter for iPhone and iPad
There is also a nifty Find My Headset App, unfortunately only available for Android, that allows you to find your headset if you lose it. The app allows you to "acoustically locate your headset by sending it a tone" which you can then to track down the missing headset. If the headset is out of range you can use inbuilt mapping history which gives you at least an indicator on a map where it last was.
The software also allows you to see the battery strength of your headset, although this requires Android 3 or greater.
The Voyager Legend will be available in October for £89.99 at Amazon.co.uk

This post was written by Rob Gordon, an IT geek, gadget lover and blogger. Rob has been using the internets since 1994 when the only streaming video was that coffee pot in Cambridge (rip)….
Follow Rob on Twitter – @robgordon – about.me/robgordonuk