Virgin Media have announced some competitive new price plans for SIM Only contracts, offering truly unlimited data and texts for as little as £12 per month.
All the tariffs offer "truly" unlimited data and texts, unlimited call to other Virgin Media customers, and then a range of voice minutes to suit. All the plans are on 30 day rolling contracts sop there is no commitment or lock-in should something better come along.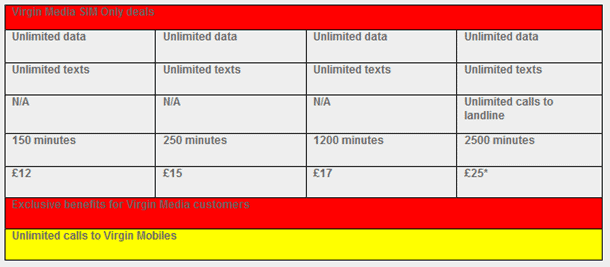 The Premiere contract tariff is also on offer during September 2012 – meaning that customers are able to bag a Samsung Galaxy Y or Nokia Asha handset free with unlimited data, texts and 2500 minutes, at just £9.50 for the first six months returning to £19/month for the remaining 18months.
If you're someone that buys their device outright and then goes for the best plan available, these options from Virgin Media could well appeal.
Source: Virgin Media
Scouring the internet for mobile tech, news & tips!