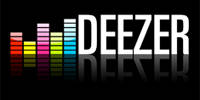 Deezer, the music streaming company, has today announced the launch of a free version of its service in the UK, supported by adverts.
To reach a mass audience Deezer will offer users in the UK a discovery period of one year of unlimited ad-supported, free listening on PCs and laptops. New users can also grab a free 30 day trial of Premium+ upon mobile activation will furthermore serve to encourage discovery on mobile and tablets.
Axel Dauchez, Deezer's CEO said:
For the first time, all barriers to music discovery and reach have been completely lifted. This is a very significant moment for both music lovers and for artists. We will allow fans all around the world to enter the musician's creative universe, discovering new and exciting content, ultimately enhancing their enjoyment of music.

At the same time, through fantastic tools, we are supporting the artists' need to engage with their fans and reach a deeper understanding of what makes them fall in love with a track. In today's environment, such a tool could help make or break an artist.
The company also unveiled Deezer4Artists (D4A), a unique new platform that will redefine the relationship between artists and music fans worldwide.
I love tech things, especially the way they infiltrate our lives without us even realising. I don't like having to explain how a gadget works to every member of my family though!