If you are like me, finding the perfect earphones can take time and more often than not you buy a pair of earphones that either break or just don't live up to expectations.
The JAX earphones from Sol Republic are the subject of today's review, as we try to find out if a set of earphones that retail around the £34.99 mark, are worth investing in.
Therefore, let's put them through their paces as we start off with an overview of the product.
Overview
Initial impressions of the JAX earphones I have to say is excellent, the product comes packaged in an eye catching box with a carry handle at the top. Now, some will say that going to extreme lengths on packaging is a waste of time, but for me it shows that Sol Republic really care about this product, and it gives a great overall finish.
Once I unpackaged the earphones, I noticed that there were a pack of 4 different ear bud sizes which I could choose from. I decided to change the pair that came attached for a slightly smaller pair, so they could fit comfortably into my ear.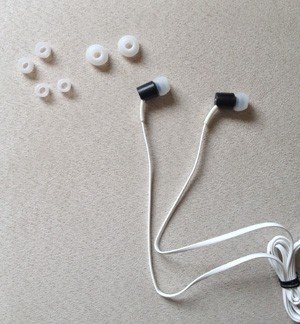 Build Quality
Once I placed the earphones into my ear (without any music playing) you could instantly tell that the sound from external sources would be completely blocked out once I loaded up some songs. Also, it is worth pointing out that these are the first pair of earphones I have seen with a flat cable, as opposed to the tubular cables you see on most headsets and earphones.
At first I tried to work out why they were flat, and it soon dawned on me that the flat design was simply to stop the cable tangling around itself.
The in-ear phones are purposely built for the latest generation of Apple products, from the iPod, iPhone and iPad, and come in a range of different colours.
Sound Quality
After checking out the overall build quality I was impressed. The earphones stayed firmly in my ears, and I did a few "tug" tests to recreate them catching on clothing, buttons and coats and they didn't let me down.
Once I loaded up a few songs I was blown away by the sound quality of these earphones. The first thing I noticed was that the base was incredible, a real deep sound with a crisp highs. There was none of that "tinny" sound, or interference such as crackling.
Surprise Feature
One feature that really stood out for me was the fact that these earphones comes with a mic that is located on the 3 button control (which you will find mid-way down the flat cable). Like on most devices these buttons will control the sound, and help you answer and decline calls.
However with the JAX earphones you can also talk hands-free, but be aware that this will only function correctly if you own an up-to-date Apple device such as an iPod, iPhone or iPad.
Summary
Overall I have to say I was impressed with these earphones from every aspect. The build quality, sound quality and features are incredible for the price tag. As an iPhone owner I was blown away with the JAX earphones, but if I happened to own an Android or BlackBerry then there would be parts of the review (the Mic Feature) where I would have been disappointed.
With that said however, the packaging does clearly state that these are made purposely for Apple products, so there is a clear indication before purchasing.
If you are looking for a pair of earphones, then go and pick up a pair of Sol Republic JAX, you won't be disappointed.
>> The SOL Republic Jax are available for £34.99 online from Amazon and other shops.
Craig Timmins is a blogger who enjoys to cover topics that encompass all things that are iOS and Android related. He can be found on Twitter most days, so if you have any questions – ask away!