The technology world is continuously developing and it is unlikely that these advancements will ever slow down. Tech has found its way into various markets over the years and the latest market opportunity to be explored falls within the fashion industry – wearable technology. This is certainly where the biggest names in the tech world can see exciting market potential. Companies such as Google, Samsung and Apple are all working on wearable devices in an attempt to take this new opportunity by storm.
So how long will it take until everyone on the street starts to look like RoboCop? Thankfully, quite a while! As with all new technology, the first generation of wearable products will need tweaking over the years, and it will take a while to change consumer behaviour and build market momentum. There are some existing wearable devices and many, many more in the pipeline, however. Here are eight examples of wearable tech:
Google Glass
One of the most talked-about and anticipated pieces of wearable technology is Google Glass. This gadget is set for public release in 2014 and will provide an augmented reality for consumers; displaying useful information such as navigation and nearby places of interest. They will be able to take photos and record videos, and instantly share them with the world via social networks.  Oh, and being glasses, you can also attach lenses of course!
This smartwatch is already in circulation and is currently compatible with Samsung Galaxy smartphones and tablets. The watch features a 2.5 inch touch screen display and has a built-in camera capable of capturing both photos and videos. When connected to your Galaxy device, it can also make and receive phone calls.
Nike FuelBand
This wearable gadget has been around for a while now, and has been incredibly popular amongst athletes and consumers looking to get fitter.  The FuelBand allows you to set movement goals each day, and constantly measures how active you are. Essentially, it is just a bracelet that acts as a constant reminder to be less lazy! Wearable technology is in competition with existing fashion-related products, so it is no surprise that Nike has recently launched the FuelBand in a number of different colours – from bright neon colours, to metallic silver and gold.
Nissan 3E 
There is currently a lot of legal confusion about whether people will be allowed to use Google Glass whilst driving, but that hasn't stopped Nissan working on a similar product designed specifically for drivers. There is not much information available about the Nissan 3E just yet, but reports suggest that it will include a navigation feature and be able to track various driving metrics.
Sony SmartWig 
OK, so the real thing is probably going to be slightly more subtle than the one in this photo (at least I hope so!), but Sony have recently been developing a wig with a built-in computer feature. Sony has suggested that the wig could feature a navigation tool, as well as being used to monitor data such as the wearer's body temperature and blood pressure. It is unlikely that we will see a final product anytime soon, but the concept really is a head-scratcher (pun intended)!
Smarty Ring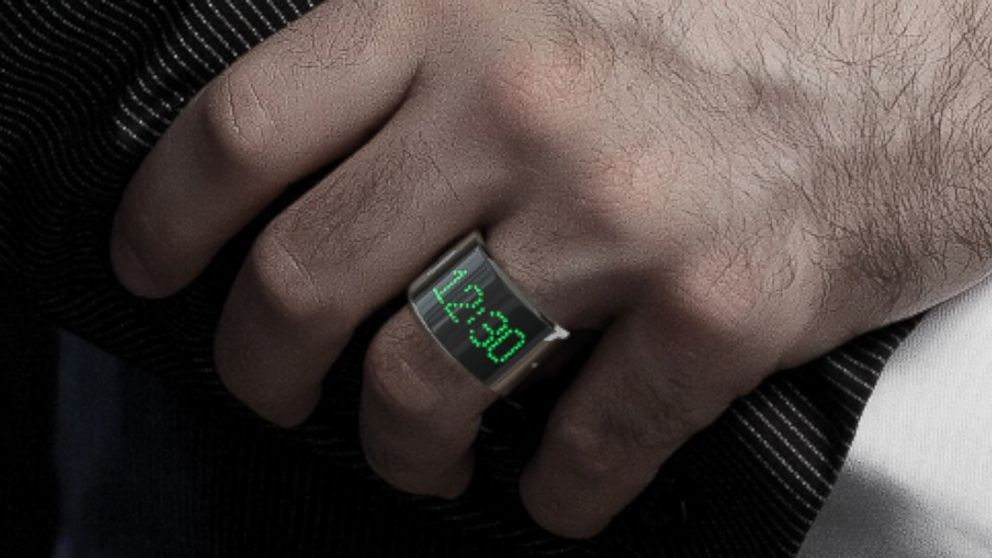 The Smarty Ring is a Bluetooth-enabled ring that can display the time and allow the user to manage their smartphone alerts. The ring will also beep whenever the user is 30 feet away from their phone, to remind them that they have left it behind. In a day where everyone's smartphone may as well be super glued to their hand, however, this is probably a wasted feature.
Smart Bra
Researchers at Microsoft have been working on the Smart Bra, which has been designed to use sensors to indicate the wearer's mood by monitoring their heart and skin activity. The principle of the product was to help prevent over-eating caused by stress. The bra will inform the user of times where emotional eating is likely to occur via a smartphone app. More info via the BBC.
Nokia Vibrating Tattoo
There's undoubtedly an enormous growth opportunity for wearable tech, but some examples truly are ridiculous – with this being one of them! Nokia have filed a patent to develop a tattoo that vibrates when you're phone is ringing or if you receive a text message. This vibration will let the user know to look at their phone (you know, the thing that already vibrates…).
Scouring the internet for mobile tech, news & tips!