Love baths? Does your little one love baths? Well that's obviously going to be a yes, our bath times end up with me being soaked and the floor too but there is always that initial 'is the temperature okay' thought. Being a mum, safety is very important and I loved the concept and design of the Ozeri floating duck thermometer. After starting the bath, pouring in the bubbles and putting 'Mr Quackers' (yes, we named him) in the bath, I watched in awe as my love for Mr Quackers grew.
The rubber duck automatically registered as bright blue (too cold) and I left the taps running for five minutes before coming back to revisit. The beautiful little duck had turned green which means it is optimum temperature for little feet, bums and bodies to jump in.
I double tested with my hands and popped my little boy in. The bath time was lovely (and we all got soaked as usual) but Mr Quackers became a bath time regular. To be honest, he even came in my bath (where he turned red, as I love my water hot!) but he really was intriguing and has become a new regular in my bath time adventures!
I loved the fact you literally undid the packing and put him straight into the bath – no fiddling, no battery attempts or switching on, just popped him straight in and he started working. I really liked the fact as a duck, he wasn't seen as a clinical aid or something unfriendly for the bath, and now our little boy helps and puts him in the bath as a regular routine.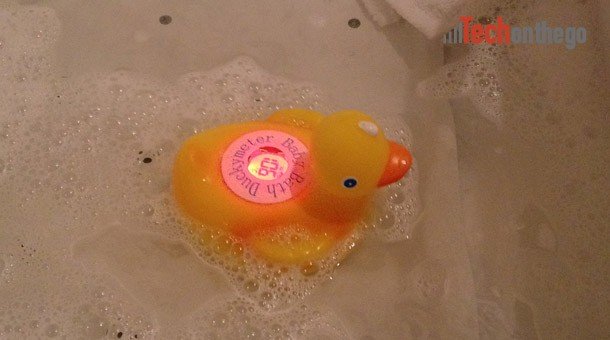 The colour changing is easy to understand too, blue for too cold, green for optimum temperature and bright red for too hot. The display also reads the temperature itself and you can see the temperature climbing or lowering when you add more hot/cold water, or after the water starts to cool over time. This was handy as our little one would live in the bath if he could, so sad it turned blue, it meant it was time to get out. Something our little boy got used to and knew 'blue' meant time to get out and get pjs on.
We love out temperature duck and I will continue to use this as a safety measure on top of feeling the water myself – as it can be difficult to judge what is okay and what is just that little but too hot. A great buy and now a staple part of the bath time routine. I will continue to use this not only for me, my little boy and out latest addition due in May as again, getting the bath water 'just right' can be confusing.
>> Buy the Ozeri Baby Bath Floating Duck Toy and Bath Tub Thermometer on Amazon for £9.99
Working full time in Marketing, love my job but miss my baby boy. New Mum-Tech reviewer for Tech on the Go