If you've been in the iPhone world long enough, you might well have an old iPhone4 sitting around in a drawer gathering dust. It might be fine, it might have a big crack or smashed glass front that you can't be bothered to repair.
Well put that to good use by creating a free car GPS tracking system. I had an old iPhone with a smashed screen and decided to do exactly that.
My old iPhone4 had a nasty accident – the glass front was completely smashed – the phone was still usable – everything worked fine, but the glass was a mess. A genuine repair from Apple was about £120, third party ones were cheaper but the quality is never quite as good, so I thought I'd set it up as a cheap car-tracker – a project I'd be meaning to do for some time.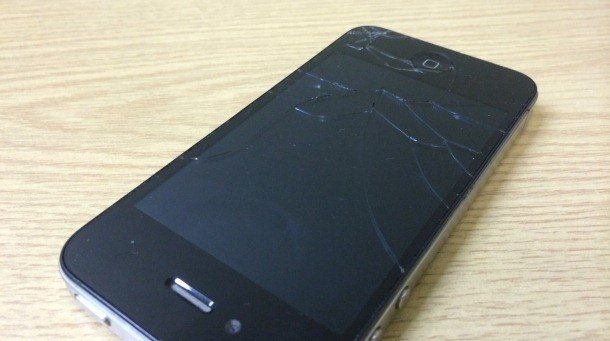 A car tracking system is fairly straight forward – you need a device in the car with a GPS and the ability to query it remotely. Several specialist devices exist for this kind of thing, but all cost money and I wanted to do this making use of what I already had, effectively costing me nothing. I'm aware of opportunity cost, and I'm not interested in it for this! The iPhone wasn't going to be sold anytime soon.
So, a redundant iPhone 4 has both cellular/data service and GPS capability so it fits the bill nicely. There are a number of Apps that perform this function, but they have to be running, and a key requirement of a car tracker is that it requires zero management – it needs to just work. So the tracking App had to run as a service i.e. it needed to run automatically.
Therefore it needed to be built into iOS, and that really only leaves Find My Friends (FMF). Yes Find My iPhone would work too, but that isn't quite as convenient and also doesn't include the Notify capability of FMF.
So I reset the iPhone to make sure everything personal on it was removed, and then setup a brand new iTunes account. Store all the details somewhere safe.
After installing the Find My Friends App on the phone, I sent it a friend request from my own account – accepted this and confirmed I could see it ok. I renamed it "Rob Car" for convenience.
Power
Obviously an iPhone has it's own battery, a freshly reset iPhone with no push email account or Apps using data in the background actually holds it charge pretty well, but even so the best I was going to get was about 2 days from the phone battery alone.
So I needed to power my tracker somehow, and in a car that's not a particularly hard thing to achieve. While having some other work done I had an auxiliary 12v ignition feed put in the car in a discreet location (hidden) with a female cigarette lighter adapter on the end. Then I simply got a £1 cigarette lighter to USB charger, and connected the iPhone up using the standard Apple cable. Now whenever the car is running it will charge the phone, when its not running the iPhone will power itself for about 18hours. After a couple of weeks driving to and from work in the morning and evening I removed the iPhone to check the battery status and it will showing 100% so the time spent charging is greater than the time spent discharging – which is perfect.
Worst case, if my car is stolen, driven to some location and then the battery terminals are disconnected, I'll still have about 2 days to track it down.
Data
So, you need to be able to find out where your car is, which means you need a data plan for your iPhone. There are various ways to do this, you can get a cheap SIM-only monthly plan for about £7/month. You can do a PAYG data SIM and topup as needed, but I was after something with zero ongoing costs.
Then I read about Samba mobile – a completely free SIM with voice and data which you top-up online. Perfect! With the iPhone drawing zero data on it's own, I would only need data in the event that I am pinging its location remotely – and my experiments showed that actually used very little data – less than 1MB for multiple traces over a weekend.
Samba allows you to top-up via your web login with money, or by watching adverts. A single advert view nets you about 2/3MB – easily enough for an average month. I watched a few and accrued about 20MB worth of data, and that has barely dipped over the last 2 weeks so it seems a viable solution for now. If the service goes down I can always stick in a PAYG data SIM like GiffGaff instead.
I suppose for true peace of mind I should get a service that covers roaming in Europe too, and I will keep checking for a decent offer that includes this. Three's Feel At Home service is tempting, but only offers partial European coverage, but if this improves it would be the logical choice.
UPDATE:
Unfortunately Samba Mobile has gone out of business, looking around a good alternative is the Free PAYG SIM from Three which only costs 1p per MB used. You get a free 150mb with every Top Up although this only lasts for 30 days, but your topup £10 doesn't expire, so will last for ages.
Be Notified
I mentioned earlier about Find My Friends Notify Me system. A big problem with car theft, is often by the time you realise its gone, its being dismantled in some warehouse far away! So if I'm leaving my car somewhere other than my house for a period of time, I simply fire up FMF and set up a Notify alert if Rob Car leaves its current location. That way I will get a popup alert on my phone if my car moved, and I can action accordingly.
FMF uses a bit more data when the Notify feature is running, but even this is a tiny amount as the tracking phone primarily checks its GPS location and only uses data periodically to confirm this to any "watching" devices.
I left a notify running all weekend and only saw about 1MB of data from my allotment get used.
Summary
So, there you have it. A car (or boat or caravan) tracker system with no upfront cost, and no ongoing costs either – for the price of watching an advert a month!
I've tested the tracker system several times, particularly when I leave my car somewhere unusual and I'm very happy with the results so far. I'll update here if I make any further changes.
September 2016 Update
This is one of our more popular posts, so I thought I'd give it an update based on some feedback I provided to someone who email'd me.
I recently sold the car I put the
iPhone
in, so had to remove it. It's the first time I've touched it since installing it all, back nearly 3 years ago.
Firstly, although I knew it was still working because I could 'see' it on Find My Friends, it was amazing to see that from the £10 credit I loaded up initially, there was still £1.47 available. It goes to show that if you switch off all data services on the
iPhone
(Its still sitting at iOS6.1!) Find my Friends really consumes very little. It depends how often you check I suppose, but I use FmF fairly regularly for my wife and other family members' locations, and this of course pings the car at the same time. Obviously these costs may very country by country, here in the UK I was able to use the mobile network Three which on PAYG is £0.01/MB.
The second thing I was impressed with was the battery life. I had always guesstimated that the phone would survive for about 24 hours on its own battery. General usage of the car ensured it would always be fully charged. 24 hours would be enough time I hoped if the car was stolen. I've yet to get a discreet 12v socket added to the new car so the phone is sitting in my kitchen. After a few days I thought I'd better charge it, and was really surprised to see it still had approx 50% battery left. Again if you turn of all services the battery seems very impressive. I'd guess at more like 3 days standby time.

This post was written by Rob Gordon, an IT geek, gadget lover and blogger. Rob has been using the internets since 1994 when the only streaming video was that coffee pot in Cambridge (rip)….
Follow Rob on Twitter – @robgordon – about.me/robgordonuk