There is a huge market in mobile phone accessories, but we often change our phones, and its always good to see accessories that are universal, rather than being limited to specific phone models. This is hard for things like cases where their design by nature must be a custom fit for the phone, but holders are even more useful when they can be used for any handset.
The Flexible Phone Clip Holder For Mobile Phones from gearbest.com is just such an accessory. Its flexible in two senses, with a strong adjustable clamp at one end, it can be secured to almost anything, and its long gooseneck 'arm' can be bent or twisted to any position getting the phone grip at the other end in an ideal position for holding your phone.As more and more streaming services become available, we're watching movies and television on our phones more than ever before. This holder is the perfect solution to positioning your phone exactly where you want it quickly and easily.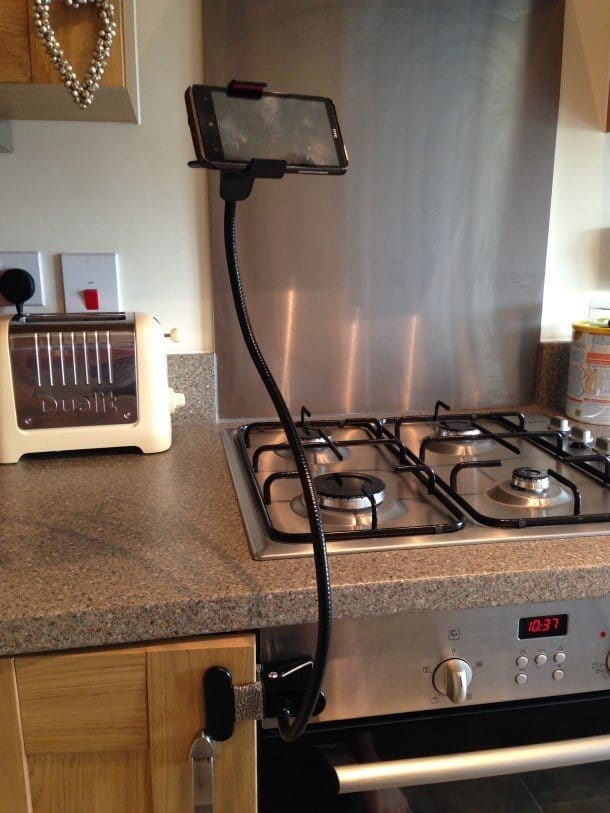 Clip it to the base of your coffee table to hold your phone next to the sofa for you.
Or clip it to your bedside table to hold your phone for you while you sit in bed.
The strong clamp in the base secures onto just about anything rigid, the flexible arm is about 66cm long, and then there is a phone grip with rubberised surfaces to securely hold your phone, with or without a case. The grip opens up to 9cm and can hold a range of phones such as the  iPhone 5/5C/5S/4/4S, Samsung Galaxy S5/4/3, HTC One, Sony Xperia Z1/2, Nokias, and anything else up that will fit.
The price is excellent too at only $14 – approx £9 – and Gearbest even offer free shipping to the UK! Gearbest also have a coupon code active on this at the moment, reducing the price to only $11.99 – to get this price enter the code: IA0149802
>> Buy the Flexible Phone Clip Holder For Mobile Phones from Gearbest.com

This post was written by Rob Gordon, an IT geek, gadget lover and blogger. Rob has been using the internets since 1994 when the only streaming video was that coffee pot in Cambridge (rip)….
Follow Rob on Twitter – @robgordon – about.me/robgordonuk