EE, today unveiled the next generation of the popular 4G tablet designed specifically for parents and their children – the Robin.
The new Robin now comes with:
new single player and multiplayer motion gaming
a new and improved Hopster learning & entertainment app
a specially designed child-proof bumper with a carry handle and kickstand
2MP rear-facing camera
The redesigned Robin also features Android Lollipop 5.1, a quad-core processor, 2GB RAM, and 16GB internal storage (expandable to 32GB with a 16GB MicroSD card) which is double that of the original Robin.
New bundled content
The new Robin comes with over 40 pre-loaded games, educational apps and eBooks, including hits such as Subway Surfer and Motion Sports. Motion Sports specifically allows children to compete interactively with motion gestures via the inbuilt camera. New content can easily be downloaded and added to the Robin through the Google Play app store, with every new piece requiring approval by the parent before children can access it.
In addition, children get free access to Hopster, a unique digital playroom for the under 6s that combines 1500 episodes of the very best kids TV shows, learning games and over 100 songs and nursery rhymes into a single ad-free app. Kids can enjoy shows such as The Gruffalo, Ben and Holly's Little Kingdom and Thomas and Friends alongside a specially chosen line up of learning videos designed to support Hopster's academically-vetted curriculum.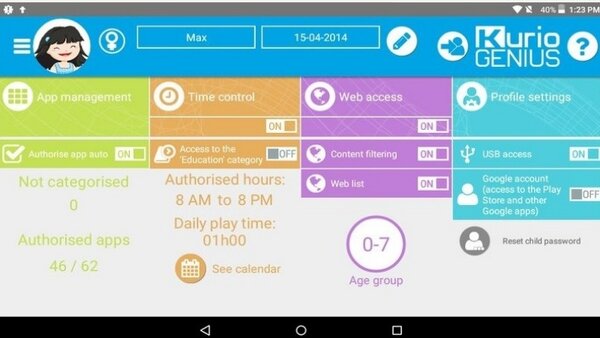 Parental controls
Crucial for a tablet aimed at children, there is a simple-to-use parental control system, so a child's online experience can be safe and easily managed. These controls include web filtering, app management and time control management. These filters can be relaxed as a child grows, giving them increased access to social networks and more age appropriate content if required.
The app management system empowers parents to decide which apps are appropriate for their kids, and to restrict whichever they choose. A separate time control function gives parents the option to limit how much time children can spend on the tablet or on any particular application.
Sharon Meadows, Director of Devices at EE said:
Last year we introduced the world's first 4G tablet for kids which proved extremely popular in the run up to Christmas. So this year we've given the Robin a makeover, to ensure it is once again the perfect gift for parents who want a tablet which can provide their children with hours of entertainment and e-learning in a protected online environment.
The new Robin will be available on a range of Pay monthly plans starting from £17 a month on an EE Essentials 24 month plan, and comes with 2GB data and three months of Hopster content for free.
I love tech and gaming, and am always looking for the 'next big thing'…