In 2013, a study by the Nielsen group found that an average person above the age of 13 spends almost 7 hours in a week playing video games. And this guide is not aimed at the average person, so the study doesn't really apply if you are a passionate gamer. If that's the case, the 6.3 hours might just be Saturday afternoon.
So, we need to think about what kind of an effect all those hours spent on a couch with your spine compressed might have.
Today, we are taking an in-depth look at all the factors you need to consider before making a decision.
Decide on the type of chair first
The types that you'll want to look into when choosing range from inexpensive inflatable chairs to high-end pedestal chairs. Let's take a look at what's out there:
Inflatable chairs
Inflatable furniture for adults is not what it used to be, in the positive sense. What used to be an option only for a pool party is today a serious budget choice, and not just for gaming. The products offered today range from airbeds for kids to inflatable chairs for adults and pull-out sofas (most of the good ones made by Intex and Bestway).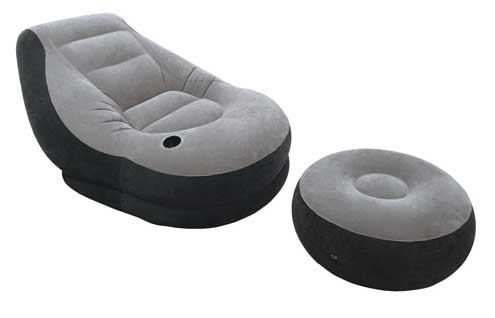 In terms of gaming, a lounge inflatable chair is only an option if you don't spend long hours in front of that screen.
Rocker chairs
This is probably the most popular choice because it hits the sweet spot between comfort and value for money.
It's the type of chair that sits on the floor (no pedestal or legs) and the better ones come packed with cool features like subwoofers and speakers, wireless system and stereo inputs.
The padding of these chairs is usually latex or memory foam, and the finish is leather.
Pedestal chairs
This is pretty much a rocker chair mounted on a pedestal. They will be the choice of those who like to sit a bit higher.
They pack very similar additional features as a rocker chairs. A pedestal chair is a piece of eye-candy and gaming luxury.
PC chair
At first sight, a PC gaming chair might look like just another computer desk chair, but that's far from the truth. These chairs are ergonomically adjusted to the needs of a gamer.
They come with extra padding in all the right places (lumbar area, head and arms). They can also lean back to unbelievable angles (up to full 180) – we don't know why anybody would want to be at in a laying position on PC chair, but that's a question for the companies making these.
The price ranges are similar to those of a rocker chair.
Racer chairs
These will be the choice of those who are mainly into racing games. Instead of using a gaming stick, in a good racer chair, you actually sit at the wheel, and the best ones come with pedals and a gear stick.
It doesn't get any better than that for racing buffs.
Comfort – ergonomics is king
Most of these are comfortable when you're lounging, but passionate gamers should put ergonomics to the top of the list of factors.
Ergonomics is individual, and it only makes sense to sit in a chair before you go with it, that's why online shopping is not the smartest way to go about this decision.
Don't pay for stuff you don't need
We already mentioned the PC chairs that recline all the way back.
Can you imagine yourself using the feature?
Keep your emotions in check and keep it simple, if you already got that cool sound system, don't spend extra money on subwoofers.
The awesomeness factor
This one kind of clashes with the previous tip but we need to talk about it.
If playing video games is THE THING in your circle of friends, getting a gaming chair is definitely going to be influenced by what we can call "the awesomeness factor", which includes the looks and the features included.
The tips here would be to walk the fine line between the two and find a product that gives you a good bang for your buck.
Compatible system
Experienced gamers won't make the mistake of getting a chair with features that are not compatible with their gaming system, but for the less experienced ones – make sure the two are compatible.
Over to you!
We mentioned that for the gaming enthusiast, ergonomics of your setting should topple all the other factors because health comes first (and yes, that includes the battle with the giant turtle in Final Fantasy 15).
Scouring the internet for mobile tech, news & tips!