Dash Cams are not an almost essential piece of technology for anyone driving. Serving as an accurate record of events in the event of an incident is invaluable, and many owners have found it has got them out of an insurance issue where there was only one witness from either side, with a different version of what transpired!
The Cobra CDR 835 Dash Cam is a compact model with a built in 2 inch LCD screen, which has an ultra-wide 160 viewing angle built in. This wide viewing angle provides a full video of the road and its peripherals without a risk of the edge of the screen or footage becoming distorted.
It records in 1080p HD quality delivering a crisp viewing experience and little to no distortion on important details. This means information such as moving figures and license plate numbers are more than likely to be visible, even at a considerable distance. This also encompasses night time driving as the quality is clear enough to capture images in low lighting giving those who do much of their driving after daylight hours the same amount of safety and evidence.
The dashcam works on a continuous loop recording system which deletes and overwrites old footage to be able to continue recording. With this, it is easy to use as it only requires a connection then it is ready to go. The CDR 835 comes with its own windscreen mount suction cup, and it attaches securely to the windscreen. During my review period I never had it fall off the windscreen, which I have unfortunately had with other models. This also makes it suitable for the use on multiple vehicles as it has no particular setting catered for certain models or car shapes.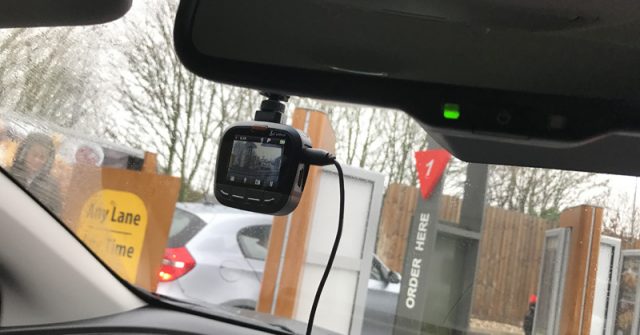 It has built in G-Sensors which work to detect when an incident has occurred. This works through the devices sensitivity and reaction to sudden accelerations and braking made during a drive, which is common indications of collisions and accidents. When this occurs the CDR 835 automatically captures and stores the footage immediately before, during and after the incident to ensure no significant footage is missed or lost. If the incident lasts longer than the footage that is automatically captured, users can always rely on the regular recording feature to obtain the footage that may be needed.
Additionally, there is a red 'hazard' button on the front allowing you to press it and permanently save the current video loop. This is important if you have an incident that doesn't trigger the G-Sensor or see something elsewhere that you want to have stored.
Space is not an issue with this dashcam, as it comes with an 8Gb microSD card, which can be utilised to store extra footage and transfer captured images onto external devices.
The Cobra CDR 835 is easy to use for those with even the most basic of technical abilities, as the installation only requires plugging in the power cable with the provided 12v 'cigarette lighter' adapter. The DCR 835 has an internal battery which lasts up to an hour – useful for delayed recording once you park.
Unlike some dashcam models, there are no special fitting instructions and wiring is minimal. It also has the option of being mounted to the windscreen which means users can make use of it straight away.
It is recognised by some car insurance companies, giving drivers a discount on their costs simply by using this device.
>> Buy the Cobra CDR 835 Dash Cam on Amazon UK for £79.99 or check out other Cobra models here.
>> Check out other Dash Cam reviews here.
This post was written by Rob Gordon, an IT geek, gadget lover and blogger. Rob has been using the internets since 1994 when the only streaming video was that coffee pot in Cambridge (rip)….
Follow Rob on Twitter – @robgordon – about.me/robgordonuk