Established in 2004, Knomo are well known for their range of great quality bags, focusing on great stylish designs with clever and organised storage.
Their latest product the LiveFree Backpack is designed to be the perfect 24/7 bag. It's hard-wearing, water-repellent, and has lots of storage including several smaller and zippered pockets for accessories and valuables.
Its also packed with technology, featuring both inductive wireless charging and location tracking.
The Knomo LiveFree Backpack is a culmination of our focus on the digital nomad lifestyle, and the thousands of reviews and comments we have received from customers on the move.
DropGo Charging
A special pocket on the bag allows you to drop a compatible (Qi-certified) phone into the pocket and have it start charging. The Samsung Galaxy S6, S6 Edge, S7 and S7 Edge are all fully supported.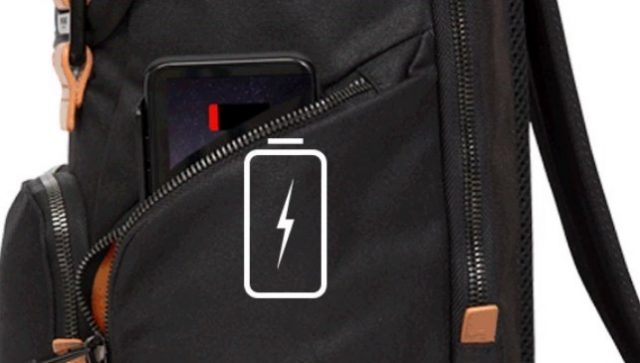 Knomo have developed a Qi compatible case for iPhones which provide support for the iPhone 6, 6S and 7 models. You can purchase this to make these work with the DropGo charging system. However at this time the case doesn't support any of the "plus" sized iPhone's.
Bluetooth Tracking
Knomo have partnered with the Chipolo Bluetooth tracking system, to create a free, customised tracking app that connects with the tracker disc inside your backpack with a range of up to 200 metres. Partner your Chipolo disc with the app, so if you've lost your bag nearby, you can ring it to emit a loud sound or simply look on the in-app map.
Making use of crowd-sourced tracking even if the backpack is outside of your phones Bluetooth range, any other Chipolo user acts as a locator for you, and will alert you if your bag is near any other Chipolo connected smartphone.
Stay Organised
Knomo is known for keeping the contents of its bag organised and secure. The LiveFree comes with the perfect number of organisational pockets and zip compartments for packing and protecting your belongings.
The main compartment holds up a 15.6" laptop, and also has space for a 10″ tablet. Two side pockets have space for a water bottle, and the DropGo charging system. The front pocket holds all your smaller accessories and has elasticated pockets and an internal zippered compartment.
KNOMO stands for KNOWLEDGE and MOBILITY
Dimensions are: Height: 410mm, Width: 330mm, Depth: 210mm and it can hold 19.5 litres.
Its unusual for an established brand to launch a product on Kickstarter, but Knomo added that they are "excited to learn from the Kickstarter community and give backers an insight into our product development like never before".
Just launched on Kickstarter, the Knomo LiveFree bag is available from £189 as the Early Bird Tracker pack, and ranges up in price bundling items like the DropGo charging system (£222) and the Charging System and iPhone Charging Case (£251).
The project is already funded, having raised £50,282 of its £50'000 goal (at time of writing), so this is definitely happening!

This post was written by Rob Gordon, an IT geek, gadget lover and blogger. Rob has been using the internets since 1994 when the only streaming video was that coffee pot in Cambridge (rip)….
Follow Rob on Twitter – @robgordon – about.me/robgordonuk