On June 5th, 2017 Apple previewed the newest features of their latest iOS operating system, iOS11, set to debut later this fall. iOS11 is a major update to one of the most popular operating systems on the planet that will bring new user experiences and hundreds of new features to iPhone and iPad Apple devices. Specifically, the Apple iOS11 update is the largest such software release for the technology giant that will features simple multitasking functions, improvement to file management apps and increased ways to use the Apple Pencil feature.
The announcement, held during a widely attended Keynote address in San Jose, also introduced Augmented reality, a new platform for developers to build apps that will permit users place virtual content on the top of real-world scenes. Apple's new CoreML platform allows developers unique on-device learning capability, allowing them to create applications that adapt and learn on the fly; which not only improves UI, but streamlines the process of updates and having to develop new platforms for applications.
Across the board, there were several new features announced that are specific to unique Apple devices and applications. Listed below are a few of the hot topics and new iOS11 features that will allow Apple's passionate user-base to expand their options. Apple's senior vice president of software engineering, Craig Federighi believes the new iOS11 is the greatest and most user-beneficial update in the software giant's history.
With iOS11 – The iPad Becomes Even More Powerful
One of the biggest consumer complaints in recent years has been the lack of multitasking functions available with Apple's iPad product line. Apple has made a significant improvement to the user experience with their latest iOS 11 upgrade for iPad devices. Multitasking on the iPad is made easier due to a new customised Dock that will provide quicker access to frequently used applications and documents from any screen; along with a redesigned app switcher that makes is it much easier to navigate apps that are used in Split View or now; Slide Over mode.
The new iPad Files app is designed to keep everything contained in one, easy to access and store location; regardless of whether they are stored in iCloud Drive, locally or other third party providers such as Dropbox, Box and more. Apple Pencil is also improved with the new iOS11 upgrade for iPad users, with a new Instant Notes feature that is accessible with a simple tap on the screen.
Siri Gets a Facelift and other Natural Improvements
Apple's personal assistant Siri is the most frequently used app on the planet, with more than 375 million active devices accessing "her" for searches each month; and in 36 different countries. This extensive travel and use tends to put strain on most, which is why Apple has added a facelift and other upgrades to Siri to make it more attractive for users. One of the first things Apple product users will notice is the improved, natural sounding voice (both male and female) that Siri will produce under the new software update. The tone is improved, pitch, tempo and emphasis is also improved. Siri's translation skills have also improved, and can translate English words and phrases into Chinese, French, German, Italian or Spanish.
Siri's usefulness as a personal assistant has expanded beyond her language and speaking ability. The new on-device learning function allows Siri to offer suggestions based on frequent user interaction with Safari, Mail, News and Message applications. For example, Siri now learns on the fly about topics or locations the device users are interested in while browsing and offer suggestions based on those interest levels.
Safety is Enhanced with new Do Not Disturb Feature while Driving
The new Do Not Disturb feature will allow drivers to stay more focused while driving on the road. The new iOS11 update will allow iPhone's to detect when you may be driving and naturally silence all notifications while also keeping the screen dark. Users will have the option to send auto replies to favourite contacts to let them know they are unable to contact them until they have safely arrived at their destination.
AirPod Improvements
Another small, but useful change is the ability for the Apple AirPods to have more granular controls for the double tap. Under iOS10 you could only select a single double-tap function for both AirPods – either Play/pause the current music, or to activate Siri. Under iOS11 you can now select the function for each AirPod.
I typically wear the right AirPod for voice calls and listening to podcasts, in mono mode. For this side, I left the setting at Play/Pause. When I put the left AirPod in, it is for listening to music, or watching videos/television, so setting this to Skip Track makes more sense for this one. Ultimately you have the flexibility to setup each one for whatever is best for you.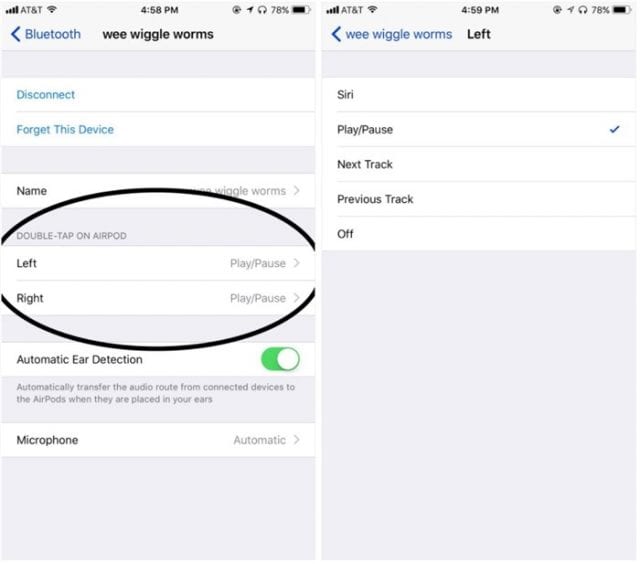 Additional features and benefits of Apple's new iOS11 can be found on their website.
One of the Editors for Tech on the Go, I love covering mobile tech and social media. I also manage the reviews we cover so all the writers stay on my good side!