If you work hard during the day, you definitely know how it's important to rest during the night. And for a quality night's sleep, you need a quality mattress.
An adjustable airbed has a mattress that will satisfy all your body's needs for a good night's sleep. And not only that – this airbed will meet not just your needs, but the needs of your partner, as well. With this bed, you will get two in one – now everybody can adjust the firmness of their half according to their desires. No more need for compromising or putting two different mattresses on the same bed frame.
The first thing to understand is that adjustable airbeds are the peak of sleeping technology.
We're not talking about regular inflatable beds here – the kinds you'd get for a move or as a temporary bed. Even the best of the regular air mattresses (listed here at TheSleepStudies.com) are in a whole separate category and a completely different product.
How does the technology work?
To understand what makes this bed so unique, you need to know its design. The mattress in this bed consists of two equally important units – an adjustable airbed and a memory foam top. The most prominent brand that first introduced these beds into the mainstream is Sleep Number, that's why most people know this bed type by the brand name rather than the general term.
But that aside, let's see the technology behind the fluffy exterior:
Adjustable air mattress: Unlike an ordinary air mattress, this bed has an adjustable air pump, which allows you to adjust the appropriate firmness of the mattress. Fill the mattress with more air for a firmer bed, or left some air out for a softer bed. With the adjustable air pump, it's so easy to do it.
Memory foam top: Memory foam was developed a few decades ago by NASA to improve the safety of aircraft cushions, and it was initially too expensive for widespread use. A mattress made of memory foam is usually denser than other foam mattresses, and it softens in reaction to a body heat. When there's no one on a memory foam mattress, it recovers to its original shape. On this mattress, the weight is equally distributed, which is one of its greatest benefits.
*Additional pillow top layer: This additional layer is available only on some high-end sleep number beds, to provide additional softness.
Adjusting the Firmness of the airbeds
You should start with the firmest setting and then remove some air until you find the one that fits your needs. Give yourself some time to adjust to the current setting before adjusting it further. It may take a week or two before you find a number level that feels comfortable to you.
Keep in mind that there are several different manufacturers of sleep number beds, and the number may not be the same for all of them.
Pros & Cons of the adjustable airbed
First of all, sleep number beds are not cheap at all. The price ranges from one thousand to several thousand dollars, which may be a lot if sleeping comfort isn't high on your list of priorities (if that's even possible). But keep in mind that you will spend eight hours per night in a bed and that it's not something you purchase so often. It might be better to wait a bit and save some money for a product you'll be delighted with.
With proper maintenance, you're going to use it for 10 to 15 years, after all. The warranty does not cover wear and tear, so you could expect to get about halfway through the warranty term.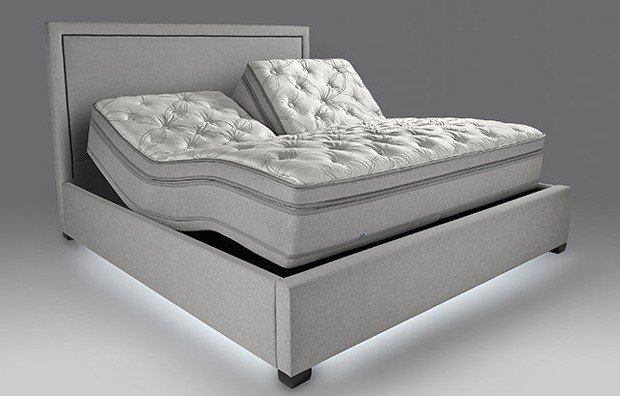 Also, these beds have a lot of delicate parts that can easily breakdown (the pump, hoses, air chambers and more). But don't worry – if something goes wrong with your adjustable air mattress, it can be easily repaired with the help of replacement parts.
Unlike an ordinary air mattress that was complicated for maintenance and therefore had to be replaced more often, this adjustable air mattress can be easily disassembled when you want to clean it, which will prolong its lifetime.
No compromises
Last, but not least, with this adjustable air bed, you'll no longer have to compromise with your partner around the firmness of the mattress. Now everybody will have its own control device to adjust the firmness of the mattress according to its preferences. And not just that – you can change the firmness of the mattress as your body's needs change over the years.
Everyone has different priorities and a different level of comfort, so while for someone this bed with adjustable air mattress and a memory foam layer on the top will be worth every penny, someone else will be consider it overrated. One thing is sure – you'll never know until you try it.
Scouring the internet for mobile tech, news & tips!