When it comes to working  with a laptop, most users are not comfortable with built-in keyboard, as they don't have the freedom to position either the screen or the keys as they would like and having them both cramped up together. The latest compact keyboard offers a perfect solution to this issue, and has also been designed to prevent repetitive strain injury (RSI) by reducing some movements that may contribute towards it.
RSI keyboard
The 840 USB Compact Keyboard from Bakker Elkhuizen is excellent, perhaps it's best selling point is that that it helps with RSI by removing the number pad, reducing your movements and improving your posture, and allowing you to keep your mouse closer to your keyboard.
The keyboard isn't much bigger than your laptop's built-in keyboard. The main comfort comes from the fact that it's lost easier to move around independent of the laptop screen. It also comes with two kick stands that help you slope this keyboard if you find that more comfortable. While all these might sound like small differences, but they all make a bit difference to comfort as compared to using built-in laptop's keyboard.
The keys of S-Board 840 USB have a decent size, but are packed in close together so this may sometimes lead to inaccurate typing. The travel distance (the exact key drop when they're pressed) isn't huge, but it's more than enough to give you an idea when you press any key and makes typing natural. There's enough of sound to let you know you've actually pressed a key, but volume is too slow to annoy you.
The 840 USB Compact Keyboard offers full range of keys, but you'll have to use function key to access some including home, number pad and End keys. It also comes with series of shortcut keys placed at the top of the board-the kind which people rarely use. There is not big setup and you just need to plug it in the USB. It seems to work in variety of programs giving you many shortcuts to Save, Open, Cut, Print, Copy/ Paste without any need to stretch your fingers between Ctrl and Another key.
Design
The 840 USB Compact Keyboard is just 2 cm thick and is lightweight, so it's easy to move around. Lay-outs:UK, US, DE, FR, BE, SwGe and more. Provides pleasurable, ergonomic typing feeling due to its shear mechanism.
The S-Board 840 USB keyboard has 80s look, reminding you of that electronic typewriter, but with a smart layout that will thrill you when typing. Everything is plastic, but it doesn't feel flimsy. The entire keyboard weights just 635 grams. It has two USB slots and connects to USB.
USB versus Bluetooth keyboards
Though Bluetooth keyboards are also portable and offer cross-device compatibility, but they won't work for everyone. They not only drain battery much faster than USB keyboards, but also have compatibility issues. Moreover, this standard is becoming insecure and obsolete. It's difficult for this keyboard to work in BIOS environment. So S-Board 840 USB definitely offers you best bang for your buck.
The S-Board 840 USB keyboard isn't cheap at little under £70.00 which puts it within a touching distance of top end compact keyboards. However, when it comes to actually performance, it's a very decent keyboard that doesn't even feel like it is going to let you down ever.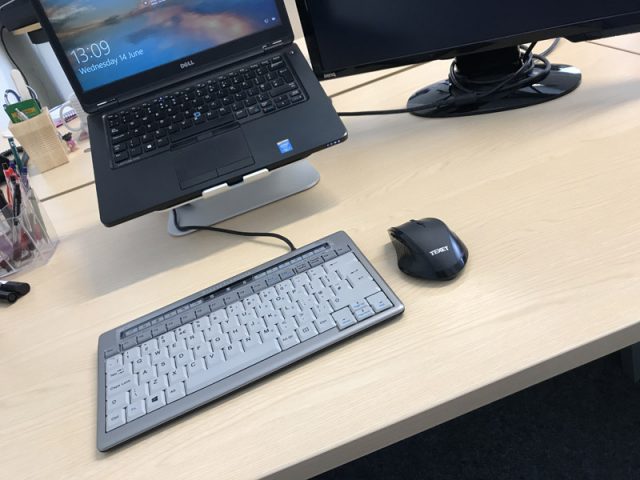 Conclusion
If you're interested in a decent, reliable keyboard to work with your laptop, and won't mind a rather simple looking design and style, this one is for you. Many benefits around RSI are the best selling point, and it also allows you to have mouse closer to the keyboard.
>> Buy the Bakker Elkhuizen S-Board 840 USB Compact Keyboard from Amazon from only £69.97
I love tech things, especially the way they infiltrate our lives without us even realising. I don't like having to explain how a gadget works to every member of my family though!