Freemake Video Converter (www.freemake.com/free_video_converter/) is a flagship product of Freemake.com. The company located in the UK released the 1st version of the software in July 2010. Since then the program has been installed by millions of users and nominated Best Video Converter and Best Software of the Year by the leading tech blogs and magazines such as Chip, PC World, PC Advisor, PC Pro, PC Plus, and many others.
What makes Freemake so special is its combination of options, beautiful design, and simplicity of use. While other video converters are too complex, support few formats, have time or file limitations, Freemake Video Converter can be fully used even by a non-technology addicted person.
The interface of this video converter is beyond any expectation. Don't be afraid to see an aircraft control box. At the top of the software, you'll see big buttons like "+Video", "+Audio", "+DVD", and "Paste URL" one. They serve to add files into the program. Freemake Video Converter claims to accept over 500 audio and video input formats. At the bottom of the software, you'll see a green bubble with formats like AVI, MP4, MP3, MKV, DVD, etc. Use the arrow sign in the software to check for more extensions. These are the output options available. You can mark the favourite extensions with a star to make them appear in the main Freemake Video Converter screen.
The software provides literally everything, and even more, you might need from a good video converter.  Besides, the company owners do their best to satisfy Freemake users. Lately, due to the high users' demand, there have been removed all the offers from the installation process. Thus now you can just move forward with the installation procedure without fear that you'll get any undesirable software on your computer. The software can be installed on Windows Vista, Win 7, 8, and Windows 10.
Now let's have a look at some options you can benefit from if you install Freemake.
Change video format
Sometimes it might occur that you can't play a particular video due to a lack of necessary media player on your PC. Instead of searching and installing numerous players for each particular format, you may use Freemake to convert videos to the most popular extension like AVI or MP4. They are supported by all modern video players. To do it, simply add your files via a corresponding button and click a corresponding green bubble.
The software provides ready conversion options to choose from. You just need to select the one you need from a drop-down menu and click the "Convert" button to run the transformation process.
For more proficient users, there is an option to create custom settings profile for their particular need. As soon as you've chosen an extension for a future file, click on a blue cog-wheel. In a new window select a video codeс, bitrate number, frame rate and fps, audio codec and other settings. You can save the profile for future use. Thus you won't have to insert the same settings manually every time you use the software.
To save any changes made to your file, convert the video. Please note that Freemake doesn't change or delete the original file. A new video will be created on your PC. So you should make sure that you have enough of disk space to keep a new file.
By default, a converted video goes to My Videos folder. You can change the destination folder at any time you wish. Click the line above the Convert button and choose a folder you want to save a new file to.
Attentive users will note a 1-pass encoding feature right below the destination path. To keep it short, a one-pass encoding provides a faster conversion and constant video bitrate. Two-pass encoding in its turn provides variable bitrate. Also, it takes longer to convert a video but gives better video quality.
One more thing you should take into consideration is that the output file size can be larger than the original one. It's normal, especially if you increase the bitrate of a file.
However, in case you want your output video not to exceed specific size, use the feature described below.
Resize any video
With Freemake Video Converter, you can choose any output size for your video. There is a ready option that lets you do it. To access it, select a video extension for the video and pay attention to the right button above the Convert one. There will be shown an estimated video size. If it doesn't suit your need, simply insert the one you'd like to have.
Just don't go beyond the minimum recommended size. Otherwise, you might lose video quality.
Convert videos for gadgets
Apart from common format to format conversion, Freemake Video Converter can also convert videos to play them on TV sets and portable gadgets like iPhone, iPad, and iPod, Samsung smartphones and tablets, Blackberry, Nokia, etc.
To have a video converted for your gadget, you should choose a device manufacture among the formats and then the device itself from a drop-down menu.
In case you can't find your device model, check for the necessary settings online and create a custom settings preset for it.
Edit Videos
Freemake video conversion software comes with a built-in video editor. With it help, you can rotate videos if they were short in a portrait orientation, cut undesirable video parts like ads or adult moments, and join several video parts into one long movie.
To open an editor, add any video and click a scissors button on the video line. In a new window, you'll see a set of buttons at the bottom. They serve to perform the tasks mentioned above.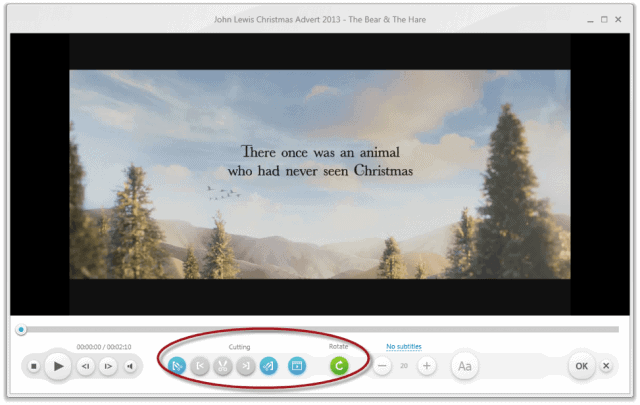 Use a round arrow to rotate a video. The scissors button serves to select the begging and the end of a piece you are planning to cut. And finally the scissors button should be used to delete the videos piece. To save changes, click the OK button.
As for the join feature, enable it at the top right corner of the main software interface.  After that, perform a standard procedure: choose a format, profile, and click Convert. Your movie parts will be saved as one video.
Convert YouTube Videos
An interesting feature worth describing is online video conversion. Freemake Video Converter can be used as a perfect YouTube downloader. Unlike online services, it's fast, reliable and gives multiple output options to save a video. You are free to choose either a video format or an audio extension (MP3).
When you need to do is to copy a YouTube video URL, go to the software and click the "Paste URL" button. Then choose a format and wait till the video is saved.
The YouTube videos can also be burnt to DVD or Blu-ray.
Burn and Rip DVD and Blu-ray discs
Freemake Video Converter can burn online and offline videos onto DVD and Blu-ray discs. The DVD burning comes with a numerous menu options and a possibility to create a custom menu background. For example, you can use a wedding pic for a DVD with your wedding video. The Blu-ray menu choice is not huge and gives only three options: animated menu, text menu, and no menu.
As for the ripping, it should be said beforehand that the video converter doesn't accept protected discs. For non-protected files, choose the necessary format and process with the conversion. For DVDs with multiple subtitles and audio tracks, select the necessary ones before the ripping. You can rip a movie with only one audio and one subtitles track.
Remember that the subtitles will be embedded in the movie. It means you won't be able to switch them off.
Add Subtitles to Videos
Speaking about the subtitles, it must be said that you can add them to any video you like whether you convert to AVI, to MP4, to a portable device, or burn videos to a disc.
The software accepts subtitles in SRT, ASS, SSA formats. Subtitles colors and font is not supported.
Please note that the software doesn't download subtitles. It's up to you to find a corresponding subtitles file online.
Create Slideshow with Photo and Music
Whenever you need a tool to create a simple presentation with pics and audio track, Freemake is there to help you. To create a slideshow, add your pics and select an audio tack. Only one song can be added.
Then choose an option to save your presentation. It can be a DVD/Blu-ray disc, a PC format or you can upload your presentation right to YouTube. In this case, make sure your music doesn't violate the copyright law.
Upload Video Online
Freemake Video Converter provides two options to upload a video online: to YouTube and to HTML5.
The 1st option lets you upload your videos to YouTube right from the software. To add a video to your YouTube account, insert your login info into the software.
The 2nd option will be appreciated by website and blog owners. If you go for it, the tool will create a ready code and player to embed onto a website. The video will be converted to 3 formats (MP4, OGG, WebM) to support any popular browser.
All in all, Freemake Video Converter is a perfect tool for all those who need a simple yet powerful program for working with videos. With it, you can fulfill literally all the main editing and conversion goals. However, if you always want to have more, there are several additional packs for subtitles editing and DVD creation.
Scouring the internet for mobile tech, news & tips!