If you are looking to boost the overall state of security around your home, and manage deliveries when you're out, then the Ring Doorbell is what you need to install. Not only does it offer exceptional motion-detecting video surveillance, but it also lets you identify who is calling at your door. What's more, it also enables larger houses to extend their doorbell range.
Ring is not only the market leader, but also the trend-setter in smart, connected video doorbells. It gives you the ability to efficiently speak with delivery people if you are not home, but it's also a relatively affordable motion-sensor security camera.
Installation and Design
Ring provide a comprehensive selection of accessories and tools to mount the doorbell. In addition to standard raw-plugs and screws, you also get a mini spirit level, an aptly sized masonry drill, and a two-ended screwdriver. All that you need to finalise the installation is a standard drill. These extra accessories perfectly suit anyone without a fully-stocked DIY kit.
Due to the placement, I ended up screwing mine to the upvc fittings to the side of my front door, which was the best location. I'd definitely recommend positioning it while viewing live on your smartphone App so you have a good idea of what you will see prior to actually fixing.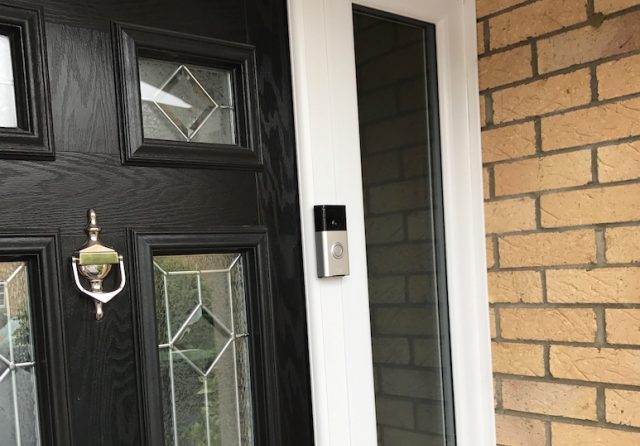 The Ring doorbell is visually appealing, measuring 12.65 x 6.17 x 2.21cm, and though definitely larger than a standard doorbell, it doesn't look out of place mounted on or next to a standard front door. The lower half is finished in sandblasted metal while the top is finished in a glossy plastic surrounding the camera.
Powering Ring is equally straightforward. For anyone with an existing wired doorbell, all you need to do is swap out the old unit and replace it with the Ring unit (assuming it is connected to a conventional 8-24VAC power supply) and a wiring guide is supplied.
The alternative is to simply run the Ring via it's internal battery which provides 2-3 months of battery life depending on how many uses it gets, and how many live connections to the device you make. The battery is charged using a standard micro-USB connector.
I was initially skeptical at the stated run-time but I've had my Ring unit installed since July and only recently had to take it off for its first re-charge. A full charge takes about 4-6 hours and then you're good to pop the Ring back on its mounting bracket for another 2-3 months!
The unit is secured to the bracket via extremely small "star" screws, so there is no danger of someone walking away with it! The doorbell is nice and weather-proof, and is also sleet and heat resilient.
>> Ring official installation instructions
Setup and features
The Ring Doorbell setup process is very similar to other connected device setups. You need o download the Ring app for iOS or Android, then press the front setup button to put your doorbell in setup mode.
Connect your device to the Ring Wifi network that will appear, and then walk through the setup steps including giving the App your home WiFi network settings which are then transferred to your doorbell. Once complete, you disconnect from the Ring doorbell, connect back to your home WiFi and now your Ring is available to be configured and managed from the App.
Configuration requires setting alerts for Doorbell rings, and motion detection alerts and sensitivity. You can add additional users so your partner can also receive alerts and communicate with Ring.
Motion detection works pretty smoothly, when detecting movement of body heat within the configured range, it sends a notification to your device and subsequently captures a 20-second footage. This feature works both day and night courtesy of its night vision capacity.
Ring can't detect 'people' however, so any movement in the range can trigger it – for example a car pulling into your drive. You can reduce the motion detection range if this is a problem.
Ring also allows the option of scheduling motion sensor alerts – this allows you to schedule when you are home or out which will help save on battery life.
Once someone presses the doorbell button, you can chose to directly speak to them via the app on your phone from any part of the world this is possible with both iOS and Android.
Cloud storage and Camera
Ring has a camera that captures in 720p at 15fps which is fine for up-close surveillance.
Video events captured by the Ring Doorbell are stored in the cloud which requires a monthly subscription to store and access. The footage is kept here for two months (60 days) which is ample time to download anything significant.
If you don't want to subscribe, you can still access the live camera either when responding to a doorbell press, or simply 'on demand' meaning that you can still chat with your visitors remotely, you just can't watch/replay this footage afterwards.
Every new Ring Doorbell purchase comes with a month free trial to let you try out the full functionality and help you decide if you want to pay for a subscription going forwards.
In Summary
The Ring Doorbell accessory is a fantastic 'smart home' gadget providing both an great security camera and a means of communication between you and visitors or delivery drivers / postman when you are out. The convenience of this all in one solution, together with a very reasonable price point – starting at £159 in the UK from Ring – makes it an excellent solution for someone looking to enter the remote home security market.

This post was written by Rob Gordon, an IT geek, gadget lover and blogger. Rob has been using the internets since 1994 when the only streaming video was that coffee pot in Cambridge (rip)….
Follow Rob on Twitter – @robgordon – about.me/robgordonuk