Snakebyte, established in Germany 1997, are a leading global provider of consumer electronics. They have a wide selection of products including connected media devices, gaming, simulation and drones.
I love gaming accessories, being an avid Xbox One player, and the new Charge Tower range looks a great way to store games and movies neatly. The Pro version adds controller charging capability to the top of the tower which is a great idea. As any gamer knows, keeping your controller batteries charged is an ongoing process for any marathon gaming session!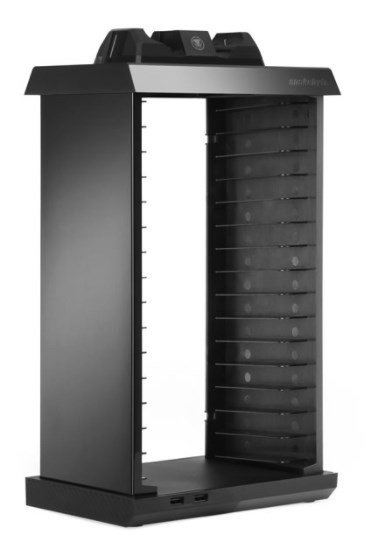 Included in the range are the following products:
PS4™ / Xbox One – Charge:Tower:
Each model subtly different to match the design and finish of the PS4™or the Xbox One, the Charge:Tower safely houses up to 15 games or Blu-ray™movies reducing clutter and allowing for each title to be accessed simply and quickly.
Designed to sit alongside the console, the Charge:Tower effortlessly blends in and adds expanded connectivity to your gaming universe, thanks to the inclusion of twin USB ports on the front of the tower, allowing gamers to connect multiple devices to their console.
PS4™ / Xbox One – Charge:Tower Pro:
The Charge:Tower Pro adds even greater functionality to the gamers' rig. Again featuring storage for up to 15 games and Blu-ray movies, as well as the twin USB ports featured on the regular Charge:Tower, the Charge:Tower Pro adds a detachable Charging Dock which securely attaches to the peak of the tower, storing and charging up to two official controllers!
Gamers purchasing the Xbox version also receive two 600mAh rechargeable battery packs, neatly slotting in to the official controller and providing up to five hours of continuous gameplay per charge. The LED charging status indicator lets gamers know instantly if their controller is ready for action, providing an all-in-one solution to clutter, connectivity and charging!
Nick Repenning, CEO for snakebyte USA said:
As we get deeper into the console cycle, it's natural that gamers have slowly amassed a large collection of physical games, multiple controllers and various accessories. The Charge:Tower line is a simple yet highly effective way of solving many of the problems so common to the average gaming setup, at a highly cost effective price.

The new range continues our strategy of supporting gamers with an ever-expanding range of high quality, useful accessories that won't break the bank.
>> Buy the CHarge:Tower and other access from Snakebyte or Amazon UK .

This post was written by Rob Gordon, an IT geek, gadget lover and blogger. Rob has been using the internets since 1994 when the only streaming video was that coffee pot in Cambridge (rip)….
Follow Rob on Twitter – @robgordon – about.me/robgordonuk