Vodafone is expanding its V by Vodafone range with three new Vodafone GPS Tracker devices designed to help you keep track of things you frequently lose like your keys, laptop or even pets!
The Vodafone GPS Tracker devices are full GPS devices, so more accurate and reliable than the 'crowd gps' devices like Tile and Chipolo. The three devices are the:
V-Multi Tracker TrackiSafe Mini
V-Pet Tracker Pod 3
V-Bag Tracker TrackiSafe Luggage
The new additions to the V by Vodafone range are designed to help you live smarter, and more securely as you have the knowledge you can track down your valuable possessions should you lose them. You can track any of your tagged devices from anywhere, all through an app on your smartphone. All the V by Vodafone connected devices are powered by Vodafone's fast, reliable network with a straight forward flat-fee pricing to avoid bill shock.
V-Multi Tracker – £40 one off fee, plus £2/month.
Whether it's your keys or laptop, the V-Multi Tracker will show you where it is, where it's been and will send an alert directly to your smartphone via the TrackiSafe app if it leaves a certain area. At just 39mm wide, 12mm high and weighing less that 20g, it's also small and lightweight, so will easily clip on to your laptop case, keys or whatever you want to track and is splash proof.
The V-Multi Tracker will also give you speed alerts if your things start moving and will notify you through the app on your smartphone.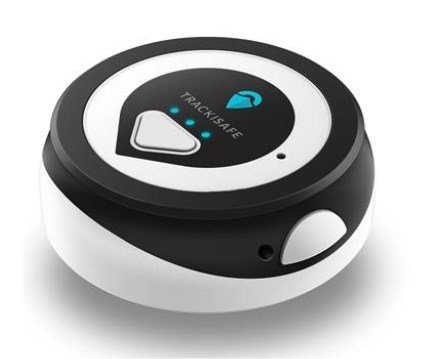 V-Pet Tracker – £98 one off fee, plus £4/month.
The V-Pet Tracker is a tracker for dogs and large cats that tracks their location whether they're indoors or outdoors – so you'll worry less if they wander out of sight when you walk them, or if they don't come home as expected when they're out on the prowl.
You can also set 'safe zones' so that you are alerted when your pet strays somewhere they shouldn't and check that they're exercising and resting when they should be, thanks to the activity monitor.
The latest V-Pet Tracker is both waterproof and pet-proof, meaning it can withstand whatever is thrown its way – from wild weather walks to rough and tumble play. And your pet won't even know it's there!
V-Bag Tracker – £50 one off fee, plus £3/month.
Designed to give you peace of ind when travelling at home or abroad, the V-Bag Tracker lets you keep an eye on your luggage while its out of your sight.
If you're not sure where your bag is, you can find it on a map on the app, in any area where there is GPS coverage and a Vodafone network signal. You can set Safe Zones, such as your hotel, so you'll receive an alert if your bag moves from designated zones.
What's more, the light sensor will alert you if your bag is opened unexpectedly, and the move and speed alerts will let you know if your bag starts moving over a certain speed – so you'll know if someone takes it away in a moving vehicle for instance.
Obviously, for the full Vodafone GPS Tracker functionality, a 30-day V-SIM plan, Vodafone network coverage and GPS signal is required.
>> Shop and Buy at the V by Vodafone range online.
Scouring the internet for mobile tech, news & tips!