Adonit has launched the Adonit Wireless Car Charger, a new Qi compatible car phone mount with built in wireless charging.
The Adonit Wireless Car Charger is a dual Qi certified wireless charger and car mount designed to improve safety, comfort and navigation whilst driving. The certification ensures you can be confident of safe charging while you're driving, and supports standard and fast charge for devices ranging from 5W, to 7.5W to 10W.
Safety
The clever design with an inbuilt IR sensor allows the mount to automatically open and auto-retract to a custom fit to keep smartphones safely secure. It works with devices with a minimum phone screen size of 4.5″ and a maximum screen size of 6.3″. The one hand release also makes it easy to remove smartphones with a simple touch of a button, ensuring the device doesn't need to be unplugged and no cables are involved.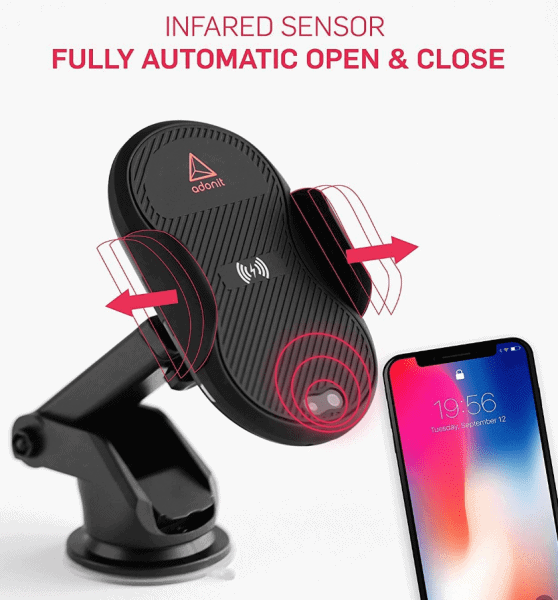 It includes various mounting options so that the Adonit Wireless Car Charger can be placed on either the air vent in your car or any convenient position on the windscreen via the suction mount.
Jasper Li, CTO for Adonit commented:
As the modern workspace continues to evolve and intertwine with our everyday life, there is a need for tools to help bridge the two. That's why we're excited to extend our range of mobile accessories to provide selective gadgets to make the most of your devices in and out of the office.
Compatible devices that work with the charger include the iPhone X/MAX/XS/XR, iPhone 8/8 Plus, Samsung Galaxy S9/S9 Plus, S8/S8 Plus, S7 and Samsung Edge Note 7/8.
We really like the look of this device, and anything that makes putting your phone in a safe car mount easier is a great idea. We'll look to get this in for review as soon as possible.
>> The Adonit Wireless Car Charger is available from Adonit US or Amazon UK and costs £74.99
Scouring the internet for mobile tech, news & tips!