You can never have enough power. Is a famous line. By someone. In this case, power is portable battery power, used to keep your phones, tablets, watches and other devices charged while you're out and about, such as the mophie Powerstation PD XL I've been reviewing for the last few weeks.
Design
The mophie Powerstation PD XL is a small and solid device, slightly bigger all round than a box of cards, most noticeable in the depth. It packs a punch though with a 10,050mAh battery putting out an impressive 18w. This is only on the USB-C port though, the traditional USB-A port only delivers 12w.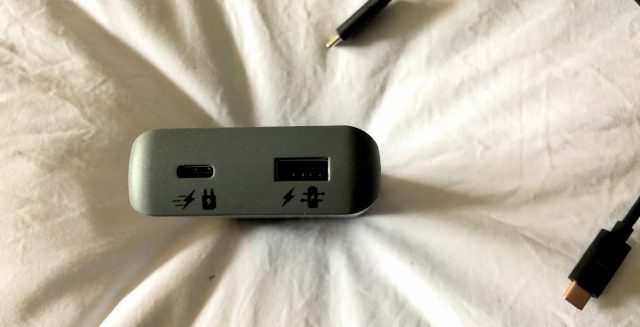 The finish is a nice textured plastic, and the weight isn't very much at 299g. I have been carrying it everywhere in my laptop bag, and it's a huge peace of mind not to have to keep an eye out for a power socket when my phone starts to run low.
Technology
mophie claim the Powerstation PD XL will charge a smartphone for an additional 35 hours, a small tablet for an additional 13 hours, and a large tablet for an additional 6 hours. I only tested this on my iPhone X phone, but after 2 full charges the indicator lights are showing the PD Charger to only be about half drained.
It has a nice Priority+ Charging system which means when charging itself and a device at the same time it will operate as a pass-through – where charging sends power to your device first then recharges the PowerStation.
To determine how much charge the Powerstation PD XL has there is a small push button on the side which illuminates a series of 4 small white LED lights. All 4 lit is maximum charge and so on.
Summary
Pros
Small and reliable
Good 10,050mAh rating.
On board USB-C and USB-A ports.
Handy USB-C to USB-C cable included
Negatives
Only comes with a USB-C to USB-C cable, and no power adaptor. To charge you must have a USB-C power adaptor already, or a device with a USB-C port to charge from.
Maximum charging output is only over USB-C
The Mophie Powerstation PD XL is a great high power portable battery for your devices. To get the most out of it though you need a phone or tablet with a USB-C connector.
>> Buy the mophie Powerstation PD XL on Amazon from £53 or from the mophie UK Shop

This post was written by Rob Gordon, an IT geek, gadget lover and blogger. Rob has been using the internets since 1994 when the only streaming video was that coffee pot in Cambridge (rip)….
Follow Rob on Twitter – @robgordon – about.me/robgordonuk