I have been testing out the new Neos Smartcamera for a couple of weeks now. In this Neos Smartcamera Review I'll see how the new budget camera performs and compare it to more expensive rivals. The new camera is launched at a budget price of just £19.99 and is designed to make  smart home security more affordable for everyone. This is an incredible price, and I wasn't sure it was correct when I initially read the details.
Neos have packed in livestreaming in razor sharp 1080p full HD, night vision, 8x digital zoom, motion and sound detection with in-app alerts, and a 2-way audio into this compact but effective device. See the full list of features below. Even better, it has an auto-arming feature, switching on the more active monitoring when your smartphone leaves the house.
The reverse of the camera has the MicroUSB charger port, a USB port that can be used to power another camera, and a MicroSD slot for additional storage.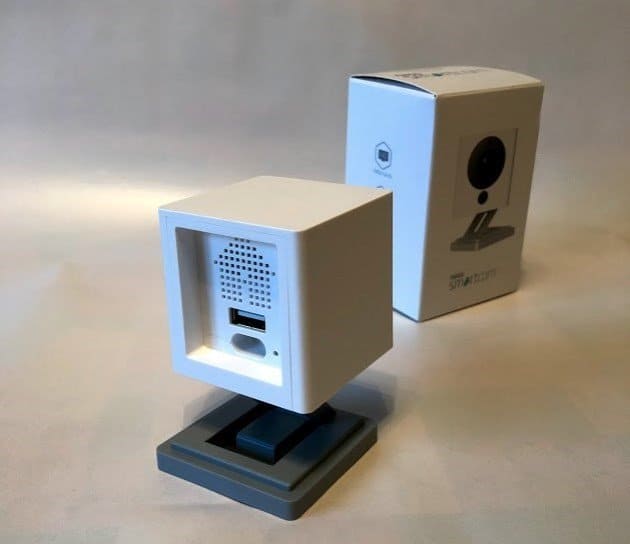 When you're away from home, it's easy and affordable to stay connected. You can livestream the moments that matter most. Whether the camera is in your lounge or kitchen you can always stay connected.
The Neos SmartCam app is compatible with smart phones running iOS and Android.
Multiple Neos SmartCam devices can be connected to the home Wi-Fi, and controlled from the app. Short video clips are saved for 14 days in the cloud and there is an SD card port for continuous recording.
Setting up the Camera and App
Setting up the Neos SmartCam is pretty straight forward. You start by downloading the Smartcam App from the App Store or Google Play Store. Create yourself an Neos online account, and then add your camera to the App.
Walk through the connection steps, entering your home WiFi and password details. Press the connect button on the bottom of the SmartCam and follow the steps. WiFi details are passed to the SmartCam by a QR code which you hold in front of the camera, keeping it as simple as can be.
The auto-arming is a nice feature. You enter your property address, and the software is linked to your phone automatically. You can enable auto-arming, and then when your phone is a certain distance away from your house (configurable with a small, medium, or large radius circle) the software auto arms and will alert you to any movement.
The camera is nice and light, and comes with a simple adhesive wall mount, or like me you can simply place it on top of a picture frame!
Main Neos Smartcamera Features
1080p Full HD: Captures sharp images to see every detail
Night vision: Enhanced night vision to see in the dark
Motion detection: Senses movement and sends alerts straight to the smartphone
Live stream: See through the camera lens in real time, anytime via the app
Auto-arming: Automatically switches on and off as you arrive or leave the home
Noise detection: Built-in motion sensor, with push notifications and sound sensitivity controls in the app
2-way audio: Hear what is happening in real time and respond accordingly
8x digital zoom: Pinch and zoom to see more in live view and playback
Cloud recording: Automatically records motion, storing 12 seconds of video on the cloud
Flexible design: Simple installation and setup, with a 3-axis movement to point the camera in the best position
Download clips: Save video clips on the phone and share with family and friends
Matt Poll, CEO and founder of Neos said:
We believe that everyone should be able to afford the sense of reassurance that a smart home security camera can provide. With the Neos SmartCam, we're making that possible and enabling millions of families in the UK to stay connected to home and loved ones.
Neos Smartcamera Review Summary
I've really been impressed in this Neos Smartcamera review, it is an impressive bit of kit. CCTV and Security, particularly IOT devices are in high demand now, and this camera packs all the features you'd expect to find in a systems priced at £50-£100 per camera. I'm seriously considering buy several more (you can get 5 for £100?!) and making my house completely secure from every direction!
The multi-functional camera is available in a white matte finish to pre-order at www.shop.neos.co.uk from today. A separate mounting kit with a 1.5m extension cable is also available.
>> Buy the Neos Smartcamera from shop.neos.co.uk for just £19.99.

This post was written by Rob Gordon, an IT geek, gadget lover and blogger. Rob has been using the internets since 1994 when the only streaming video was that coffee pot in Cambridge (rip)….
Follow Rob on Twitter – @robgordon – about.me/robgordonuk