The fifth generation (5G) cellular network is fast becoming a reality, with launches already taking place in different parts of the world. This new technology will revolutionise the way we and our devices communicate, boosting the innovative spirits of other technological advancements such as AI (Artificial Intelligence), IoT (Internet of Things), Blockchain, cloud-based technology, and more. We take a look at privacy and security concerns in 5G.
5G's ability to improve a number of other technologies is due to its unprecedented ultra-fast speed and almost zero latency. With possible speeds of up to 100 times that of 4G, the importance of this technology can certainly be appreciated.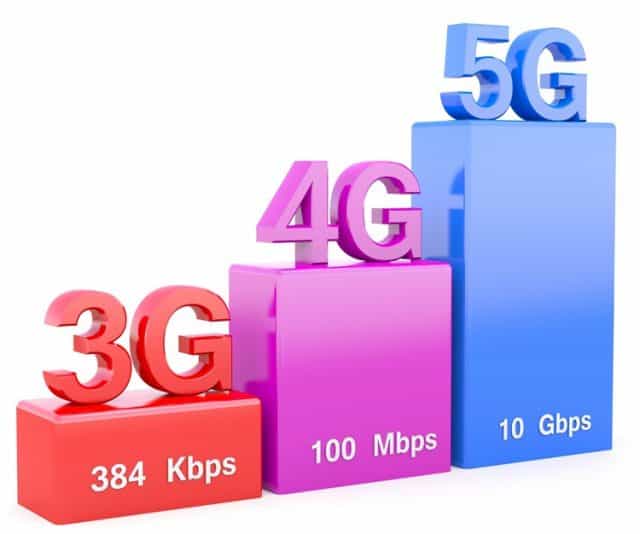 However, 5G's capabilities are also cause for its drawbacks. As the technology opens a number of portals, it can also expose a number of industries to security risks. This, of course, is no new scenario where new technologies are concerned, but the security risks in question here may be more jarring than usual.
The effect of 5G on location data
The advent of 5G certainly promises faster download/upload speeds, as well as quicker network response times. At the same time though, it comes with some privacy concerns.
In an interview with the Wall Street Journal, Steve Bellovin, a professor at Bells Labs and AT&T Labs Research, highlighted the privacy concerns over 5G networks. His major concern was about location data. 5G signals will have a very short range in the United States for example, preventing it from being able to go through buildings.
As a result, more cell towers will be required, which will in turn help smartphones figure out users' physical locations. Today's towers have a radius of nearly a mile. If new towers will cover a much smaller area, then they can detect more precisely where you are.
We can say that with 5G, we will see more towers in new places, such as indoor areas in locations like shopping malls, office buildings, etc. All of this translates to a more precise targeting of users' locations, amounting to the ability to even know the exact building you are in.
Moreover, as you move through a city, your mobile network provider will be able to trace your path with high accuracy, since your device's connection will constantly jump from one nearest 5G tower to the next.
Lack of location privacy on 5G enables your mobile network to sell your data, as data brokers and advertisers will easily see your current location and target more ads to you accordingly. They may also see the exact routes you take every day and places you go to, all in real time. Such Orwellian circumstances certainly raise a number of privacy and security concerns.
Privacy And Security Concerns In 5G
5G will essentially increase the ability to connect numerous devices, and also boost bandwidth significantly. However, it will demand additional security mechanisms to ensure smooth business continuity.
5G applications and systems are meant to be service-oriented, which makes it important to address its security challenges appropriately. The upcoming 5G technology would serve vertical industries, instead of serving individual customers who want faster mobile experiences and rich mobile phone functionality.
Security requirements vary from one service to another while serving vertical industries. The growth of the Internet of Things (IoT) will enable more people to operate networked devices remotely. It will demand stricter user-authentication methods to prevent unauthorised access to IoT devices.
For the improvement of 5G networks, cost-effective IT technologies will be deployed. However, for 5G services to work, appropriate security mechanisms need a robust network infrastructure that could support advanced security features.
In cloud-based 5G networks, the separation of physical entities which ensures the security of function network elements is difficult. It requires the industry to put more emphasis on 5G infrastructure security.
Service-oriented security concerns
Different services need different security levels and mechanisms. For instance, IoT (Internet of Things) may need lightweight security, but remote health care demands resilient security. This scenario needs an E2E (Exchange to Exchange) data security chain that will reduce dependence on individual link security and streamline security management.
5G networks can provide security systems as a service to vertical industries. Networks may validate service access and send the authorisation result to vertical industries, so that the network may decide whether it would use the security service in a virtual network in the industry or on a cloud platform. 5G will also require networks to segregate virtual network slices to protect information confidentiality and prevent users' resources from being used by other users in other virtual network slices.
Final words
5G technology will certainly offer countless benefits to a wide range of industries as well as individual users. It will offer lightning-fast speeds, ultra-rich mobile experiences, super-low latency and better efficiency. But all these benefits come with risks.
Significantly increased numbers of connected devices, as well as elevated use of virtualisation and the cloud, leads to more 5G privacy and security threats. To realise safe and healthy communication in the 5G era, the industry needs a laser focus on 5G security.
Scouring the internet for mobile tech, news & tips!