It's going to be 2020 in five months. Thinking about the amount we can accomplish—and have accomplished leading up to this point in time—is awe-inspiring, to say the least. We've talked about technology trends in the past, including cloud computing, integrated physical-digital realities, augmented and virtual reality, as well as the Internet of Things (IoT).
IoT—or the way inanimate devices can communicate with each other over the internet using network connectivity to send and receive data—offers tremendous benefits and influences daily lives. Businesses are making the most of this powerful technology to simplify processes and save money, but today we're sharing the various ways you can use the internet of things at home to make life tremendously easier.
Here's how to seamlessly sync all your tech to revolutionise your home or office, step by step.
Step One: Start with Devices
Before you start automating your home, you need to purchase technology that's capable of syncing with one another. As of 2019, there are over 26 billion IoT devices worldwide—and that's guaranteed to spike in the years to come as this sophisticated tech continues to improve and evolve. So what are some IoT devices that can impact your home? Here's a list:
Smartphones
Computers
Printers
Televisions
Audio speakers
Alarm clocks
Coffee makers
Lighting fixtures
Automated window blinds
Smart lock systems on doors
Air conditioning systems
Heating units
Water heaters
Refrigerators
Stoves
This doesn't exhaust the list of IoT devices, but certainly gives you some inspiration to get started.
Step Two: Set Up Your Sensors and Actuators
The IoT devices in your home or office should have sensors and actuators, which enable the device to collect real-time data about your environment. There are many different types depending on the information designed to be collected, such as:
Lighting
Leak/Levels
Force/Load
Flow
Motion/Velocity
Temperature
Humidity
Sound
Chemical/Gas
Presence/Position/Proximity
For example, a smart lock system can detect the fact that you walked out the door while forgetting your keys and could remain unlocked for 30 seconds, allowing you to run back inside rather than having to wait at a neighbour's place for a spare.
Step Three: Master the Telemetry Process
Sensors monitor the data while actuators instruct your IoT devices to make adjustments, which leads to a process known as telemetry. Once you understand telemetry streams analytics, there are number of functions you can track and adjust, such as:
Room temperature
Shower temperature
Location of items (i.e. a smartphone)
Energy consumption
The more you learn how to master the telemetry process, and the more data you learn how to stream, the more robust your IoT infrastructure will be.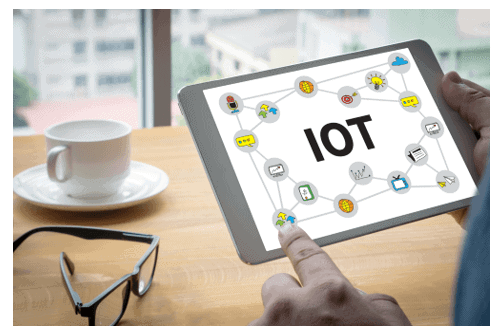 Step Four: Connect to Your Network
It's important to make sure you have a secure internet connection, which your IoT devices need in order to send and receive data from the cloud. Some have posed questions and concerns over the safety of IoT pertaining to the security, privacy, and safety of the vast amount of data recorded and transferred through the network. Be sure to fortify your reliable internet connectivity—especially if you're setting up a system at an office that contains sensitive information.
Step Five: Data Processing Creates Automation
Finally, data processing software will examine your data and figure out how to improve your day-to-day experience. With the data collected from all your devices, the software can instruct each of them to perform tasks—no manual operation needed! (Although you can use IoT to, say, remotely turn the lights on at home with the command of your smartphone so long as the light bulb is connected to the internet.)
All device tasks are coordinated by a Virtual Assistant (VA). Again: the more devices and greater telemetry streams, the better! After the IoT software collects insight from your habits and gathers a month's worth of data, your VA can help you get ready for work before you even wake up!
For example, the VA can tell your thermostat to heat your home before telling your alarm clock to wake you up at 8:00 AM, which it has learned that you do on weekdays. From instructing your coffee maker to start a new pot while you take your morning shower, to scanning traffic alerts and helping you locate misplaced, there's a ton of ways IoT can simplify your daily tasks.
Between the IoT in your car and wearable devices on your body—plus the tech at home or work—is guaranteed to change your life. We're excited to see what's to come in 2020!
I love tech things, especially the way they infiltrate our lives without us even realising. I don't like having to explain how a gadget works to every member of my family though!