Content stealing has fast become an issue on the Internet, so much so that hardworking video makers who have built up a 20,000 subscriber base from years of effort (but didn't use Video Watermarking techniques) are downing tools and losing motivation because the videos they have created are being stolen by spam accounts that have built-up hundreds of thousands of subscribers from content stealing practices.
We touched on an article last year which looked at Visual Watermark's application on how to watermark photos and reduce the chances of them being illegally used. And whilst you can never stop content stealing there are ways that you can prevent and put off thieves from taking your videos. One of those is by watermarking your videos as well as your photos, and Visual Watermark for Video is the answer.
The application is free to download on Windows and also on Mac devices (with optional paid for packages of Basic, Plus and Premium, and the download weighs in at less than 10mb.
How Can Visual Watermark for Video Help Me?
Well firstly, if you have a massive catalogue of videos you don't need to worry about doing them one by one, as Visual Watermark allows you to essentially bulk edit your videos so you can watermark several videos at once.
The Watermark can either be text that you enter and format in the application itself, or you can upload a logo from your computer/laptop. Just keep in mind that you will need a PNG formatted logo to remove any white background (if that is required).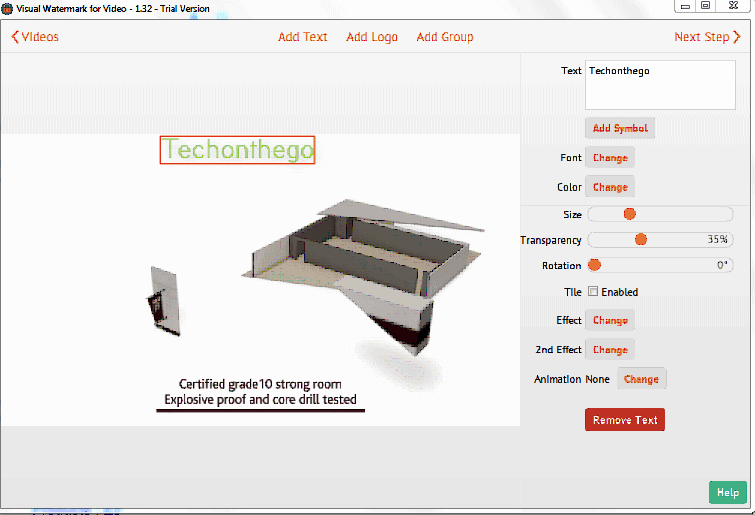 Let's look closer at the options and features for each:
Adding Text Watermarks
After adding a video you will move across to the next screen which shows you the options available for adding a video watermark. These include position, size, aspect and location.
The first tab is for text based watermarks. There are over 200 fonts and over 60 different effects you can pick for your watermark, including transparency, 3D, shadows and even animation.
You can either add one watermark to an area of the video, or for better protection you can add the watermark as a tiled effect to the entire screen.
Adding Logo Watermarks
If you already have a logo that you wish to use then you can go straight ahead and upload it to the program and then use the position, rotational and effect tools in order to get the look right. Once done you can proceed to the final stage which just allows you to set output options such as video sizes and formats.
The app also has the capability to remove a logo background if there is one. A "Remove Background" button will appear if the logo in the video isn't transparent.
No Need for an Internet Connection
Apart from the initial downloading of the application to your computer, everything else can be done without the need of the Internet. Now, this particular feature is hard to come by in other types of watermarking software. There aren't many good programs out there that allow you to download a program and use it for free, Visual Watermark does.
This means that you can add watermarks in out of range areas, whether that's on holiday, on the train, in the back of a car and so forth.
In Summary
If you are scouting the Internet looking for a way to protect your videos then Visual Watermark should be a significant consideration. A free to use downloadable program that allows batch processing and plenty of customisable features makes this a strong contender for the best video watermarking application out there. If you need more fonts, more templates and use on more than one computer then you should take a look at the one-time payment plans which are tiered.
Craig Timmins is a blogger who enjoys to cover topics that encompass all things that are iOS and Android related. He can be found on Twitter most days, so if you have any questions – ask away!