Swedish smart home technology specialists Minut have launched their Minut smart home alarm in the UK.
Minut believes that every home should feel safe and has executed on the vision to make home security smart, simple and accessible for every home.
The Minut smart home alarm has no cameras, no data loopholes, no pricey long term commitments and no complicated and expensive installation.
Never listening or watching, Minut will only react when required, ensuring users always know what's said at home, stays at home.
Designed to sit discreetly on the ceiling, it may be small but Minut is packed with 5 sensors and a siren, ensuring the home is safe when occupants are out and that it remains a comfortable environment when they are home.
Motion Sensor – PIR sensor
Noise sensor – with custom alert thresholds
Temperature Sensor – customisable high and low temperature warnings
Humidity Sensor – monitors humidity levels
Alarm Recognition – Minut will alert you if it hears another alarm (fire/Co2) sounding
Connecting to the home Wi-Fi, the Minut smart home alarm is wireless and ready to work anywhere in the world.
Minut Smart Home Alarm Key Features
Built in powerful 95db alarm siren that immediately notifies you of intruders

Connects wirelessly to your smart phone so you can monitor & protect your home, anywhere, anytime.

Self-install in under 5 minutes without any tools, using an industrial strength adhesive

Monitor motion, noise, temperature, humidity and more and set thresholds for when you want to be notified

Instant notifications if any threats are detected, when your thresholds have been breached, or if someone tries to tamper with the alarm
Easy To Install Minut
Minut is incredibly easy to install – there is a simple mounting plate that securely sticks onto the ceiling and the sensor then clicks right in. Minut can be readily moved to another location if desired.
Minut has a 6 month battery life so you haven't got to frequently charge it. The App will notify you when charge is running low, and you can pick a convenient time to charge it up via the included USB-C cable which only takes around 5 hours.
Powerful Mobile App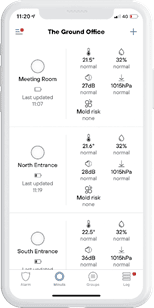 The Minut App is available for iOS and Android, and allows setup and complete control and customisation of the smart alarm.
You'll receive alerts on your mobile if any of the sensors trigger with an event you need to be notified of.
Using the free Basic plan, users can monitor and protect their home, receive instant notifications of any threats and get insights into their home environment.
For just £6.99 per month, the optional Minut Plus plan allows customers to add multiple users, multiple homes and allows users to create a trusted network of friends and family to safeguard their home. If something happens in the home, and you're not around, Minut will quickly seek assistance from the users network to make sure the property remains safe.
>> The Minut smart home alarm is available from Minut.com for £129.
I love tech things, especially the way they infiltrate our lives without us even realising. I don't like having to explain how a gadget works to every member of my family though!