I recently picked up an Amazon Echo Show 5 to get a better understanding of the Alexa ecosystem and because, frankly, it looked like it would make a really cool bedside alarm clock. Take a look at my Echo Show Tips and Tricks list below to get the most from your Alexa with a screen!
The Echo Show range bring a screen to Alexa. And that gives you a whole new way of interacting with it. And a host of new features that having a screen allows you to do.
The Echo Show range consists of the Echo Show 5, the larger Echo Show 8 and the positively tablet sized Echo Show (10)!
Echo Show Tips and Tricks
News Headlines in Video
'Alexa, what's the latest news headlines' will fire up a news summary clip from BBC News. What's nice is it's a video summary so you can listen or watch depending on your mood.
Play Apple Music
Not screen specific but the Show has a pretty good speaker and if you subscribe to Apple Music already (like I do) then there's no need to pay Amazon extra ££ for the full range of music.
Use the Apple Music skill and connect your Show to Apple Music. Then simply 'Alexa, play U2 on Apple Music' and you're instantly listening to a random selection from your favourite artist.
Decide which cards rotate on screen
The feed on the home screen on Echo Show has several home cards that rotate automatically. But you can update which cards appear or don't appear. Just say, "Alexa, go to settings," or swipe down from the top of the Echo Show screen and select Settings. From there, select Home Screen, then select Home Card Preferences, and toggle the icon next to the card name.
Have a digital photo frame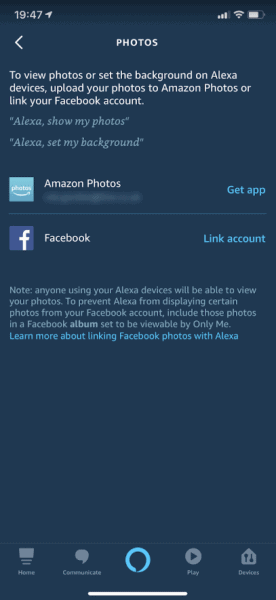 You can create an album on Prime Photos, or link your Echo Show to Facebook and then ask Alexa to show your album for a slideshow (Alexa, show my [album name] album").
To display Amazon Photos you've uploaded and added to an album:
1. Swipe down from the top of the screen and tap Settings.
2. Tap Home & Clock
3. Then tap Clock.
4. Tap Personal Photos.
5. Select Background.
6. Tap the Amazon Photos option.
7. Then select the album(s) you wish to connect to Alexa.
8. Tap Save at the bottom of the screen and you're done.
To adjust the slideshow speed, go to Settings and then Display.
For Facebook – once linked in your Alexa App the following steps will get the photos showing:
1. Swipe down from the top of the screen on your Echo device and tap Settings.
2. Tap 'Home & Clock'.
3. Then tap 'Clock'.
4. Tap 'Personal Photos'.
5. Select 'Background'.
6. Tap 'Facebook'.
7. Then select the album(s) you wish to connect to Alexa.
8. Tap 'Save' at the bottom of the screen and you're done.
Turn off the screen
You can turn off the Echo Screen completely by simply saying 'Alexa, turn off the screen'. The screen will remain blank until you give another voice command of touch it. Useful if you want zero distractions.
Ring Doorbell Monitor
Pair your Alexa Show with your Ring doorbell, and instantly see who's at your door when your Ring doorbell activates.
Add the Ring Skill to your Alexa – detailed instructions are listed here.
The Echo Show also works with the amazing value Neos Smartcamera so you can check on your security cameras at work or in the garden easily.
Watch a film or TV show
Although an unusual use case you can actually watch films or TV shows on your Echo Show – but only from Amazon Prime Video (and any active Amazon Channels subscriptions) or YouTube.
Just ask Alexa to show you films or TV shows by specific name or category. After your video starts playing, you can use your voice to control video playback.
You can also browse and watch YouTube content using the built in Silk or Firefox browser. It's a little more clunky compared to Prime Video but it works.
Unrestricted access to Prime Videos or YouTube might not be what you want for your kids! Thankfully, the Echo Show has a couple of parental control settings that lets you block content or restrict access.
You can disable voice search for videos completely or activate the Video SafeSearch option.
Access these settings via these settings via: Settings > Restrict Access > Web Video Search
Scan A Barcode
Only just added the Echo Show can now use its camera to scan the barcode of an item, and add it to your shopping list!
Ask Alexa to "scan barcodes" or "scan this to my shopping list." The camera is then enabled with a marker identifying where to hold the barcode up and the item is put onto the grocery list. Amazon is all about making it easier to buy things, and while this new feature is still being improved its there to play with and see what works!

Image courtesy of voicebot.ai
Echo Show Range & Accessories
If you're interested in getting an Echo Show and taking advantage of having an Alexa with a screen, these are your options.
Echo Show 5 – size: 148 x 86 x 73 mm – 1MP camera – physical camera cover
Mono speaker, £79.99 from Amazon UK
Echo Show 8 – size: 200.4 x 135.9 x 99.1 mm – 1MP camera – physical camera cover
Dual speaker, £119.99 from Amazon UK
Echo Show (10) (2nd Generation) – size: 246 x 174 x 107 mm – 5MP camera – no physical camera cover, Dual speaker, £219.99 from Amazon UK
Echo Show Stand – get your Echo Show its own little stand so you can raise it slightly from the surface it sits on, and adjust the viewing angle to better suit the lighting conditions of the room. Available from £19.99 from Amazon UK or £39.99 for a slightly fancier one you can swivel.
I hope you found some of these Echo Show Tips and Tricks useful, any others you'd like to share please tweet us, or leave a comment below.

This post was written by Rob Gordon, an IT geek, gadget lover and blogger. Rob has been using the internets since 1994 when the only streaming video was that coffee pot in Cambridge (rip)….
Follow Rob on Twitter – @robgordon – about.me/robgordonuk