I work from home the majority of the time, and having the right home setup is essential for prolonged comfort and productivity. Something my desk was missing was a really solid laptop stand/riser and after some research I found the BakkerElkhuizen Ergo-Q 260 was perfect for my needs for a number of reasons.
BakkerElkhuizen Ergo-Q 260
The Ergo-Q 260 is a beautiful, ergonomic laptop stand / riser. It is also portable. It collapses down into a small document wallet, and if you needed could easily slip into a laptop bag to be taken with you – it can be folded to A4 size and has a flat depth of only 9 mm.
BakkerElkhuizen states:
Using a notebook stand in combination with an external keyboard and mouse increases productivity by 17%
and I cannot argue with this, working with the laptop elevated to eye level and providing a second screen at the same height as my external monitor makes working infinitely easier.
I wanted something permanently based on my desk though, and it is ideal for that. The XX is very well designed with rubber anti-slip feet to stop it moving on a desk, and a protective inner lining where the laptop makes contact with the stand.
The stand has 5 adjustment points allowing you to set your preferred angle. It's not 'infinite adjustment' that some stands offer, but there is enough variation for anyone to find something comfortable for them.
Document Stand
Something that sets the Ergo-Q 260 aside from most other stands is that it contains an integrated document stand above the laptop keyboard. It does mean you require an external keyboard but for a desk based scenario with an external monitor that's likely anyway.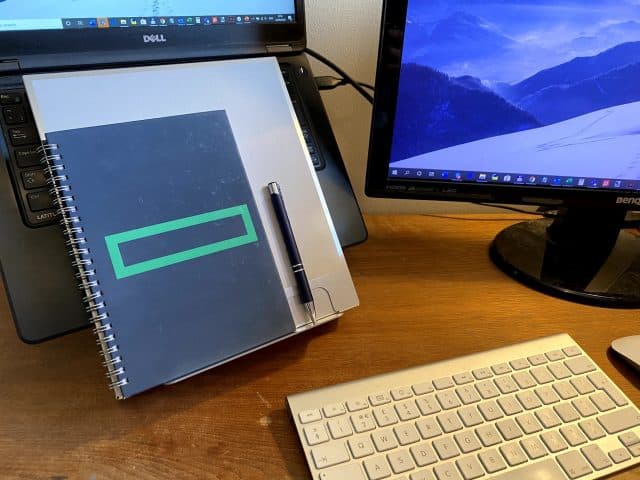 Summary
The BakkerElkhuizen Ergo-Q 260 is a high quality, portable, laptop stand that improves your work efficiency and posture in one sleek attractive product. You're paying more than some other products, but none of those will fold up into your laptop bag for travelling. Road warriors should absolutely consider this.
>> Buy the BakkerElkhuizen Ergo-Q 260 via Amazon UK from £120.00
>> View the official BakkerElkhuizen Ergo-Q 260 site for more information.
>> See other BakkerElkhuizen products we've reviewed.

This post was written by Rob Gordon, an IT geek, gadget lover and blogger. Rob has been using the internets since 1994 when the only streaming video was that coffee pot in Cambridge (rip)….
Follow Rob on Twitter – @robgordon – about.me/robgordonuk