Duolink is launching the world's first Speakerbuds, a speaker and true wireless earbud hybrid, this summer (29 July 2020), creating a new category within the audio hardware market.
Music is a key part to most people's lives, whether they are commuting, working out, relaxing at home or listening to their favourite tunes while cooking. Whether you want to listen to music while out and about or you just fancy sharing your playlist with friends, at a party or BBQ, Duolink's Speakerbuds provide an exclusive solution.
They seamlessly switch between a speaker, earbuds – with mic for incoming call pick up using Bluetooth – and stereo speakers to fulfil your every listening need.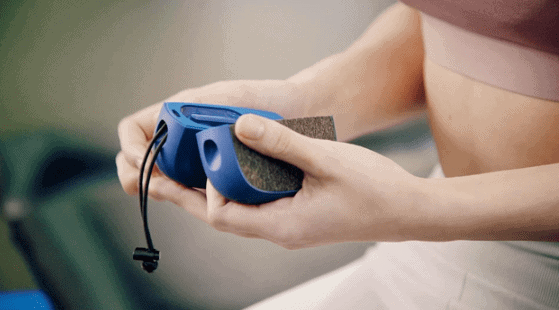 If you want to listen to music, pop the snug fit earbuds in, which are comfortable enough to wear all day. Then, when everyone in the room wants to listen, the earbuds can simply be slotted into the top of the speaker to transfer the music in less than a second, with absolutely zero lag, for everyone to enjoy. If you want to move from a single full-bass speaker to sharing the high-quality sound on both sides of a room, simply break Duolink Speakerbuds in half to immediately make a stereo sound space yourself!
The Speakerbuds also have AI noise cancelling mics with voice enhancement technology that extracts your voice from noisy environments to ensure any calls you make are crystal clear, even if you were at a festival.
Features
Longer battery and charging efficiency – fully charged in just 1.5 hours, the earbuds also charge in the speaker so you can charge as you play music. Duolink Speakers have a longer battery life – for the earbuds (4 hours) and speaker (6 hours) – thanks to the speaker acting as a powerbank, providing 2 times longer battery life (7-8 hours) compared with similar true wireless stereo products.
Water resistance (IP54) – protects them from water spray in any direction, and limited dust ingress, so they are sweat- and travel-proof.
Stable connection – the latest Bluetooth 5.0 stabilises connection to your mobile device without any audio drop.
Tap control – adjust the volume, pick up or hang up calls and summon Siri all at your fingertips.
Crafted for comfort – unique shark fin shaped earbuds with tapered tips for ultimate comfort in ear canals using medical silicone to provide 6 hours of comfort and joy while staying tight in the ears for improved listening experience and so you won't lose sound even if you're running.

Portable sound quality – come with a carry string to fasten to bags, bikes, etc.
Key Specs
Chipset: BES2300iz

Speaker frequency: 20 – 20,00 Hz
Mic frequency: 10 – 10,000 Hz
Bluetooth: V5
Earbuds battery capacity: 40mAh (4.5 hours)
Speaker battery capacity: 400mAh (6 hours)
Charge time: 1.5 hours
Water resistance: IP54
Dimensions: 3.82 inches x 3.82 inches x 1.45 inches
Net weight: 200g (7.05 oz)
Colours: red, white and blue
>> Visit the official DuoLink website
Scouring the internet for mobile tech, news & tips!