Vodafone have just launched their Vodafone Curve GPS Tracker – a small, cheap, connected GPS Tracker and its set to sell big!
As the first of its new 'Designed & Connected by Vodafone' range of smart tech products, the Curve GPS Tracker fixes all of the issues that have dogged the GPS Tracker market.
One of my most popular articles How To: Create A Car GPS Tracker From An Old iPhone was written out of the frustration at the lack of a small cheap GPS tracker on the market. It was written several years ago, but the situation hasn't changed much. Until now.
A successful GPS Tracker needs to:
be small and discreet
have good battery life
be connected and trackable anywhere
be cheap to run
There are hardly any products on the market that handle all of this. Services like Tile exist for local tracking but they tend to be on smaller less important things. Yes you can track more widely via the Tile network (using crowd GPS) but what if what you've lost isn't near anyone running the Tile App? What about important expensive things like your luggage, your car, your boat or your pet? Full GPS Trackers exist too, but they usually fail on one of the key points such as size or price.
Vodafone Curve GPS Tracker
Lets take a look at the Curve in a bit more detail. At first glance (and I'm looking forward to reviewing it to confirm all of this) it covers all the four main issues perfectly.
It's small and discreet. The Curve is 16.4mm H x 42.1mm W and weighs just 30g.
The battery is great, providing up to 7 days battery life depending on if its passive or being regularly checked.
It's fully trackable. Four different tracking modes to choose from, which can improve the speed of location updates and save battery life
It's cheap to run. Curve comes with a choice of two subscriptions – £2/month based on a 24 month contract, or £3/month for a 12 month one.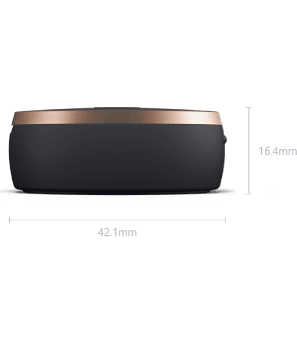 The Curve is charged from a standard microUSB connector, so its easy to wire into a car or boat battery and tuck discreetly away. If a thief disconnects the battery, it will then run off its own for a further 7 days – and you can be auto-alerted when it moves out of a defined zone (virtual boundary or fence).
You don't need to worry about Curve being hidden in a body panel of a vehicle either, in the absence of GPS signal, Curve uses Wi-Fi and Cellular to point to its location which should be accurate enough to get a general location.
Key Specs
Designed for life with a key ring accessory that's stylish in design and compact
Built-in Vodafone Smart SIM

enabled, providing connection and roaming at no extra cost across Vodafone's global network. when users subscribe to a SIM connectivity plan

Unlike simple Bluetooth only trackers, Curve uses four different tracking technologies – GPS, Wi-Fi, Cellular and Bluetooth – to provide a more reliable connection to users favourite things
Four different tracking modes to choose from, which can improve the speed of location updates and save battery life:  Power Save Mode, Everyday Mode, Performance Mode and Real Time Tracking.

Zones

: users can create mapped areas, so they are notified when the device leaves or enters their chosen areas.

Users can control multiple trackers

through the Vodafone Smart App in real-time and create a profile for each person or thing they're tracking

Built for style and durability, Curve is designed to brave the elements and is certified IP67 waterproof
Vodafone Smart App – set up your device, manage your price plan and enjoy all Curve's features using our free app.
Provides up to seven days battery life (usage dependent)
Lutfu Kitapci, Managing Director, Vodafone Consumer IoT commented:
Starting with Curve, the first in our 'Designed & Connected by Vodafone' range we are helping bring customers added peace of mind.
The Vodafone Curve GPS Tracker is affordable at either £2.00/month based on a 24 month contract, or £3.00/month for a 12 month one contract and is available in two colours: Dove and Slate.
>> See the official Vodafone Curve GPS Tracker website.

This post was written by Rob Gordon, an IT geek, gadget lover and blogger. Rob has been using the internets since 1994 when the only streaming video was that coffee pot in Cambridge (rip)….
Follow Rob on Twitter – @robgordon – about.me/robgordonuk