When it comes to new smart phones, it usually takes something new, brilliant or different to get the device noticed and have it take off. Everyone knows smart phones are basically a mature market at this point, which makes any kind of separation harder than ever.
So that raises the question we'll try to answer in this Infinix Zero 8 Review: Specifically, does the new Zero 8 Android phone make the grade in any of these three categories?
Sort of. Most potential buyers probably haven't heard of this particular company before, so its easy to mistake the Infinix name for a new line from one of the major companies.
Wrong. Infinix is actually a Chinese company that's been around since 2013, and the company's phones have become popular in the Middle East and Africa, both of which are emerging markets for smart phones.
Given all that, you can probably guess the appeal—price. Depending on the location and the currency, the Zero 8 costs around $250, which should make it a solid bargain – lets find out in this Infinix Zero 8 Review.
Infinix Zero 8 Design and Features
The feature set isn't spectacular, but it doesn't need to be. There's a Mediatek chipset that features an Octa-core processor that clocks in at 2.05 GHz, and the MicroSD card slot takes up to 2 TB of ancillary storage for those who need extra. The screen measures out at just short of seven inches, with a resolution of 2460 x 1080. This isn't a 5G phone at this price point, of course, but it does support multiple 4G bands, although there are some gaps in provider coverage that may mean you'll come up short with your particular phone. So that's a minor caveat emptor.
The phone has Wifi and supports Bluetooth, and the battery life of 31 hours is certainly reasonable. There are four cameras on the back of the phone, including an LED flash, and the phone has two cameras on the front as well.
Design
If there's anything that sets the Infinix Zero 8 apart, it's the design. The silver model draws and refracts light in a way that's been described as stunning, and the matte "v" shape makes it appealing as well. The connection elements—microphone hole, headset jack and charging port—are all laid out across the bottom of the phone in a way that makes sense, and the chrome finish is attractive as well.
The screen features a IPS LCD, 90Hz measuring 6.85 inches, 111.4 cm2 with a ~86.8% screen-to-body ratio. The resolution 1080 x 2460 pixels (~392 ppi density) and Infinix say it has a "Gem Cut" design concept incorporated to achieve an overall sophisticated look.
Inspired by the Louvre's "Diamond Glass" design
The display felt a little duller than expected, Infinix claims a max brightness of 450nits but it didn't feel as vibrant as it should have. Given the value this handset offers though, its hard to complain.
It also has a "smart panel" that lets you choose tools and apps for quick access, and you can shift icons around as well. Be careful with the pre-installed apps, though—some perform automatic updates, and there are apps and games that deliver notifications, too, although some can be removed.
The phone feels 'big' in the hand, and it is a big phone! It also feels a little a little top heavy, mainly due to to the large diamond housing for the camera, but everything seemed well within reach, and it doesn't feel like its going to topple out of your hand.
Software
When setting up the device, US/Canada/UK were not listed so I had to choose Other in the country list. Although North America and Europe aren't the target market for this device you'd still expect all regions to be catered for, and it's likely to be confusing for novice smartphone users – who this device is aimed at!
The software mirrors the design in the sense that it has some appealing features that are surprising at this particular price point. The phone starts with Android 10 together with a customized XOS Dolphin 7 interface, and it comes with plenty of pre-installed apps.
There are a number (lot) of 'prompts' for adding features and apps bordering on the annoying, but you can dismiss them and they do reduce over time. You may also want to spend some time initially going through and removing some of the very wide range of third party apps that come preinstalled – some of which unfortunately can't be removed, but some can.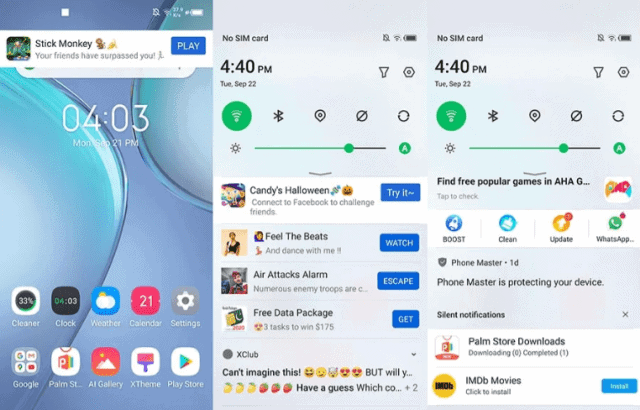 I also enabled the optional three button navigation pretty quickly. It's 'optional' because the phone supports gesture control for the main navigation as standard. I played around with this, but its wasn't as intuitive as I'd hoped and I ended up returning to visible buttons!
Cameras
The cameras are also impressive for this price point. They can add lens lengths to put together different viewpoints without using zoom, although the cameras aren't compatible with either Camera API2 or Open camera to get an unprocessed version of photos.
There are some other drawbacks as well. The swiping can get a little clumsy when you're using the interface, and the Infinix Zero 8 doesn't support wireless charging, either. The phone also isn't water resistant, but most of these issues are minor quibbles for a phone at this particular price point.
Infinix Zero 8 Specifications
CPU Octa-core (2×2.05 GHz Cortex-A76 & 6×2.0 GHz Cortex-A55)
GPU Mali-G76 MC4
Android 10 OS
Internal Storage: 128GB 8GB RAM
Rear Camera:
64 MP, f/1.9, (wide), 1/1.73″, 0.8µm, PDAF
8 MP, f/2.3, (ultrawide), 1/4.0″, 1.12µm
2 MP, f/2.4, (depth)
2 MP, f/2.4, (depth)
Front Camera:
48 MP, f/2.2, (wide), 1/2.0″, 0.8µm
8 MP, f/2.2, (ultrawide), 1/4.0″, 1.12µm
WLAN Wi-Fi 802.11 a/b/g/n/ac, dual-band, Wi-Fi Direct, hotspot
Bluetooth 5.0, A2DP, LE
Battery: 4500 mAh, non-removable
Dimensions: 168.7 x 76.1 x 9.1 mm (6.64 x 3.00 x 0.36 in)
Weight: 205 g (7.23 oz)
>> See the full phone specifications at GSM Arena
The one quibble that is a major issue is availability. Because Infinix is hoping to tap into the African and Middle Eastern markets, finding this phone in the UK, Europe or the US can be difficult. For example, at the time of writing, there's not a single listing for it on Amazon UK. A $250 phone that represents a company's flagship is definitely a good deal and an excellent value, but only if you can find it.
That potential problem lowers the grade for the Infinix Zero 8, probably to anywhere from a B+ to a B-, depending on your needs and how you feel about the compromises.
If the tradeoffs make sense for you, though, and you can actually find this phone, you should strongly consider buying it—you may end up with a much better value than that offered by plenty of high-end smart phones. Hope you enjoyed this Infinix Zero 8 Review!
>> Official Infinix Zero 8 website

This post was written by Rob Gordon, an IT geek, gadget lover and blogger. Rob has been using the internets since 1994 when the only streaming video was that coffee pot in Cambridge (rip)….
Follow Rob on Twitter – @robgordon – about.me/robgordonuk