Our 4th instalment of turning your home into a Smart home, see's us step outside for the first time, as we look at the Ring Doorbell and another must-have device for household security. I must say that purchasing the Ring Doorbell was one of my best decisions, and something that even my Wife was on-board with. The few years we have had it, it has been a blessing and has helped us speak to delivery drivers when we haven't been in the house, to instruct them where to leave parcels, and to just generally keep tabs on things.
So how the Ring Doorbell works is simple, it connects to your router, and you have a handy little app on your phone (and Smartwatch in some cases) where you can see who is at the door, and answer it by speaking directly to them. But its not just about seeing who is at the door, there are a host of other nifty little features that can help you secure your home.
For example, as with anything tech driven in our household, we try and connect it to Alexa. We've set our doorbell up so that any motion detected will prompt the downstairs Alexa group to notify us, as well as if anyone rings the doorbell – we get a nice doorbell chime that echoes across the Alexa devices. Its also good for when we are in the garden, as we have an outdoor Alexa by the hot tub which will sound out if someone is at the front door. Very, very useful.
So lets get on to the point of the article and explain how a Ring Doorbell can be setup. At the time of writing there are now 3 Ring Doorbell versions to choose from, we have recently covered the Doorbell 3 Plus which you can see more details on features and sample recordings.
Setting Up Your Ring Doorbell
The first recommendation would be to charge your Doorbell up if its not already, it just saves you having to unclip it (if you aren't hardwiring it in, which most people tend not to). Depending on usage, you can get a good month or more out of it, or as little as 2 weeks. There are some tips though for extending battery life that I will come to later.
Download the Ring app to your phone, and chose to setup a new device. You will now be presented with a number of different options from the Ring product range. Doorbell, being the most popular should be right at the top so give that a tap.
Depending on the generation the setup can adopt a different process but generally should follow the same steps.
The app will now ask you to scan a QR code. This code is found on the back of the device near the charging port, so flip the device over and scan it in. This will start the setup wizard, where you will then need to create an account.
Connecting your Ring device is done by entering 'setup ode' which is performed by pressing and realising the orange button on the back of the Doorbell near to the QR code we scanned a few steps ago. Once you have done this you will see the ring light on the front of the device spin around and your phones internet connection switch to 'Ring Doorbell'.
Once setup has been completed you can affix the Doorbell to its cradle on the front of your house and give it a quick test by pressing the button.
Advanced Setup
That's the easy part done, the next part really comes down to fine tuning the device which is done in the settings section of the camera that you have just added.
This section will allow you to change the following settings:
Mode Settings (Disarming, Setting Away from Home, or Setting to Home)
Motion Settings
Chimes
Smart Notifications
Device Health
Device Settings
Motion Settings is the main feature as this is the area that can really personalise your device and save battery at the same time. You can set the area where a motion will alert you so you can reduce any unwanted alerts, you can set sensitivity settings, and you can even set the Doorbell up to only detect people.
The other area to look at is Device Settings as this is where you can manage video settings for optimum resolution, change the way you get notifications and also setup snapshot captures from video.
Live View
The live view from the camera is the highlight of the app and the Ring Doorbell as it will show you who is at the door and allow you to hear them and interact with them wherever you are, as long as you have your phone to hand. You can also use this screen to view any missed rings, and review motion activations.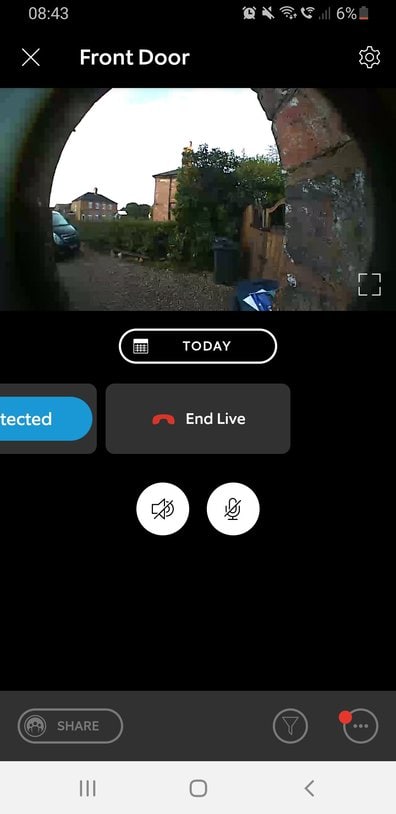 Using Alexa
As mentioned at the top of this article connecting Ring to Alexa will only benefit you and to do this you just need to locate the Ring skill in your Alexa app. It will then ask you to link your Ring account and then its just a case of enabling the skill. You will then be able to get motion and doorbell notifications from Alexa, and you will also be able to interact with the camera and whoever is at your door.
If you have the Amazon Echo Show you can also ask Alexa to show your front door camera on it, or it should automatically pull up live video footage when the doorbell has been pressed.
Overall, the Ring Doorbell has brought home security to the forefront and with many homes now equipped with these doorbells it has helped not just preventing break-ins and thefts but also with people's day to day lives.
Join us next time, and for our last instalment on how to turn your home into a Smart Home, when we look at another Amazon device called Blink.
>> See our review of the Ring Doorbell 3 Plus for more details.
Craig Timmins is a blogger who enjoys to cover topics that encompass all things that are iOS and Android related. He can be found on Twitter most days, so if you have any questions – ask away!