I reviewed the original Ring Doorbell back in 2017 and now 3 years later it seemed a good time to take a look at the newer model and see the changes in this Ring Video Doorbell 3 Plus Review.
Ring Doorbell 3 Plus Improvements
There are a few key upgrades between the Ring Video Doorbell 3 Plus and original Ring Doorbell model. Ring has dramatically increased their product range in the last few years so there is tighter integration between devices, and a standardisation of accessories.
There is no mounting baseplate now, unlike the first version. The actual unit is screwed to the wall, but there is now a removable battery which can be brought in and charged. The battery units have a microUSB connector for charging
The batteries are now standardised across the Ring range, so they are interchangeable between other Ring devices like the security camera and spotlight camera. It also allows you to have a spare fully charged and immediately swap over, bringing the first one in to put on charge. With the original Ring Doorbell you had to bring the whole unit inside for charging, meaning there was no doorbell at all during that period!
The Doorbell runs on a rechargeable Quick-Release Battery Pack. It can be hardwired to an existing doorbell system or transformer for continuous charging (8–24 VAC, 40 VA max., 50/60 Hz). The battery life will depend on your Motion Alert settings and how often and for how long you connect up to view the doorbell Live. Mine has been installed for 1 month now, with motion alerts enabled and quite frequent Live Cam viewing and the battery is at 34%.
Fitting Kit
The Ring fitting kit is much better than supplied in the first version. There is now a complete set of screws, drill bit, spirit level and dual-purpose screwdriver are now all supplied.
Mounting Plates
The new v3 installation kit includes 2 mounting plates which are reversible.
One angles the Ring Doorbell slightly up or down if your front door is up or down some steps or an incline.
The other angles the Ring Doorbell slightly to the left or the right if needed. Longer fitting screws are supplied if the mounting plates are used.
The Ring Doorbell 3 Plus fits easily to a door or wall, and looks great. Its easy to see and obvious for anyone to use when approaching your door.
Version 3 and Version 3 Plus Models
The Version 3 Plus model features something called Pre-roll recording, that none of the other models do. This is where upon detecting motion, the doorbell will add in 4 seconds of black and white recording before the actual motion was detected. Pre-roll recording, when enabled, uses separate low-powered cameras to record up to four seconds of video in a rolling buffer on the camera's local memory. This buffer constantly overwrites itself automatically.
To conserve battery power pre-roll recording footage has no sound and is in black and white only. When viewing in the App (see below) the first section of the Motion Alert is in a lighter blue, this indicates the pre-roll section. The later section is in a slightly darker blue, this is where full recording kicked in when motion was detected. See this actual recording example in the Sample Recordings section below.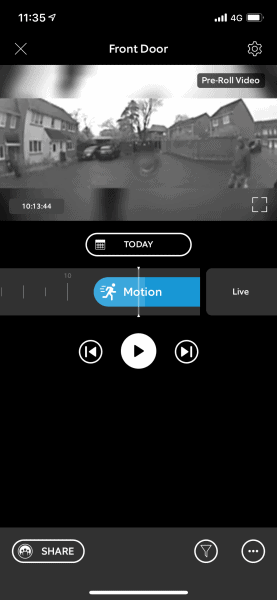 This is actually extremely handy, and gives a lot of context to what you're seeing. The Ring doorbell is constantly buffering lower quality video, and when motion is detected it adds this 4 seconds onto the recording to give you some prior footage. It places some additional drain on the battery but is definitely a feature worth having. The Ring website states that pre-roll recording might be made available to other devices in the future.
Sample Recordings
The quality of the recording, combined with the wide-angle lens is just as impressive as before. Video is now in 1080p HD and includes an improved Night Vision mode and covers a 160° horizontal, 84° Vertical – again a slight improvement in the field of view over the original.
Daytime Sample Recording with pre-roll added.
Night-time Sample Recording
Link Ring with Amazon
You can now link your Ring account with your Amazon account, automatically allowing you to receive movement or ring alerts on your Alexa devices if you have them.
Once done you can check in on your Ring camera from any Alexa device with a screen, such as my Echo Show 5 by my bed.
>> See my Amazon Echo Show 5 Tips and Tricks article
Ring Cloud Recording Subscription
Any new device comes with 1 month free trial of Ring Protect Plan, which allows you to view and share historical recordings on subscribed devices.
The Ring Doorbell will function in Live View only mode without a subscription. You will still get doorbell notifications and even motion notifications, you just won't be able to view what triggered them historically, even by a few minutes. 
There are two plans Ring Protect Basic and Ring Protect Plan Plus.
Ring Protect Basic costs £2.50/month/device and gives you 30 day video history of any events. It also provides a 2 year limited warranty on doorbells and cameras (1 year as standard without).
Ring Protect Plan Plus costs £8.00/month and covers all devices at a single address and gives you the same 30 day history of events.
With Protect Plus, if you have a Ring Alarm system, you also can opt into Assisted Monitoring and Ring will call up to 3 emergency contacts in the event of an alarm going off.
Protect Plus Plans also get you a 10% discount on any further Ring products, so its definitely worth paying if you intend to buy anything more from Ring.
Summary
I hope you enjoyed my Ring Video Doorbell 3 Plus Review. While there are other options for 'smart' or 'video' doorbells, this remains the best of the bunch for me, with a powerful feature-rich control App, Alexa integration and a wide range of additional products to tie into your home security ecosystem. Next I'll be reviewing the Ring Spotlight Cam, looking at its features and how it can work in tandem with the doorbell.
>> Buy the Ring Doorbell 3 Plus from Amazon UK from £199.00

This post was written by Rob Gordon, an IT geek, gadget lover and blogger. Rob has been using the internets since 1994 when the only streaming video was that coffee pot in Cambridge (rip)….
Follow Rob on Twitter – @robgordon – about.me/robgordonuk