With Windows 10 Microsoft changed its update model from large OS level changes (e.g. Windows 7 -> Windows 8 -> Windows 10)  to a series of smaller incremental updates. One such recent update that has particularly upset people is a new weather entry on the taskbar. I cover below how to remove weather from Windows 10 taskbar.
What does it look like?
In the most recent June 2020 Windows 10 update, Microsoft has added a new news and weather section to the Windows 10 taskbar. The desktop and taskbar look and feel are highly personalised, and many users are upset with this garish new addition.
"recently this weather and new widget showed up in my taskbar and I'm not able to figure out how to hide it…"
Clicking on the weather produces a much larger expanded panel, showing news and weather. It features headlines, sports, weather, finance and traffic information by default for the selected region.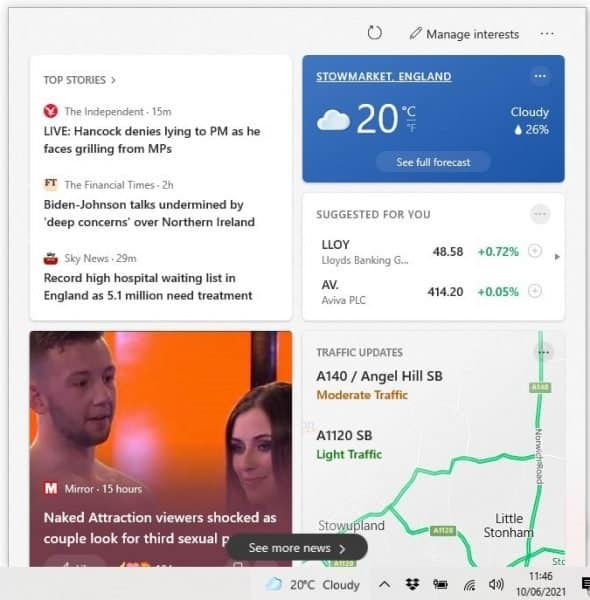 In the case of the weather and traffic cards, you can change the location to one of your own preference if you wish. But let's look at how to turn it off completely – something many people are looking for how to do.
Remove Weather From Windows 10 Taskbar
To remove this uninvited guest from your PC go to any empty area on the taskbar, and right click.
A menu will then appear, scroll to a new entry "News and interests" which will have the item "Show icon and text" ticked. Click the item "Turn off" to disable the taskbar item.
You can also select "Show Icon Only" for a smaller widget that takes up less room on your taskbar.
That's it! The Weather icon will be gone.

This post was written by Rob Gordon, an IT geek, gadget lover and blogger. Rob has been using the internets since 1994 when the only streaming video was that coffee pot in Cambridge (rip)….
Follow Rob on Twitter – @robgordon – about.me/robgordonuk