I have always liked the idea of Apple CarPlay, the ability to access key functions on your phone in a large screen safe way. I've never had it in my car, and once I changed form lease car to one I own, I decided to fit a new head unit with CarPlay compatibility. See my experience adding Apple CarPlay to Mitsubishi Outlander 2015 model.
Adding Apple CarPlay To Mitsubishi Outlander
The Mitsubishi Outlander started having CarPlay built in for some models from 2017 and more commonly from 2018 onwards. My 2015 model was saddled with a stock Mitsubishi "MMC" head unit, which has a decent 6″ ish touchscreen sat nav unit, but is limited to Bluetooth input for audio or USB input for slightly richer audio control from a phone as a music 'iPod' style input.
It does also have DAB Radio, FM/AM Radio and a CD Player and SD Card slot. 5 years ago this was pretty comprehensive, but now it's lacking the rich phone connectivity of Apple CarPlay or Android Auto.
Very quickly I knew I wanted to add CarPlay so began the process of working out what would be involved. The parts list is quite extensive so to help anyone else considering this, I thought I'd provide some details.
There are numerous third party headunits available that support Apple CarPlay. You may want to choose one from a larger well known manufacturer, but I specifically wanted the 'floating' screen look which are rarer at the moment, so after much research ended up choosing a unit from Xtrons.
What Parts Did I Use?
Here is a parts used for anyone interested. Some items are specific to the Outlander, so if your car has steering wheel controls or reversing camera you will want to research and get the components that are correct for your manufacturer and model.
Radio Tuner
I didn't opt for an RDS aerial, but you may want to add a USB RDS Adapter to get RDS Radio. I didn't need over the air radio as I was fine just streaming radio via CarPlay when I chose to, which isn't that often anyway as I predominantly listen to podcasts via Downcast (CarPlay compatible) or Apple Music.
LED Ambient Lighting
I also added some interior led light strips to provide some better ambient lighting in the vehicle, which is extremely dark at night. I chose a very simple and cheap set from Amazon UK for £29 which are both colour and intensity adjustable via an App on your phone once connected.
You can also buy adapters for things like TPMS so the head unit can give you tyre pressure monitoring.
Installation
Removing the existing head unit is fairly straight forward. Using some plastic trim tools remove the dash facia, and then unscrew 4 screws holding the MMC unit in place and it slides right out. Carefully remove all the plugs/connectors from the rear and store the old head unit away safely. This Youtube video from Australia does a good job of showing you how to do this.
The Xtrons TIB110LN screen is bigger than the hole in the facia! So it needs to have the screen disconnected temporarily so you can fit the new unit, and put the facia back on, and then put the screen back on.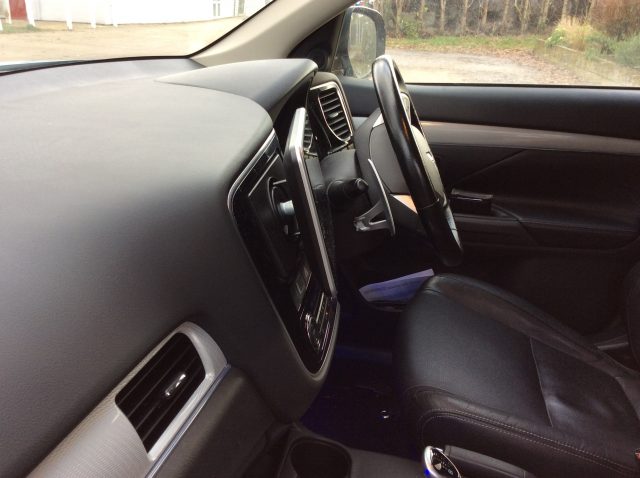 Then using the adapters listed above:
– connect up the main power and speaker looms
– connect up the reversing camera
– connect up the steering wheel controls
– connect up the supplied GPS
– connect up the supplied microphone
Then run the USB leads with female USB connectors to somewhere you can access them. I ran one to the glovebox, and one down under the centre console and behind the trim to the passenger side gear selector area. This had the CarPlay adapter fitted to it, and then the Apple USB Lightning cable connected into that. I then plug my phone into the lightning cable, and CarPlay works!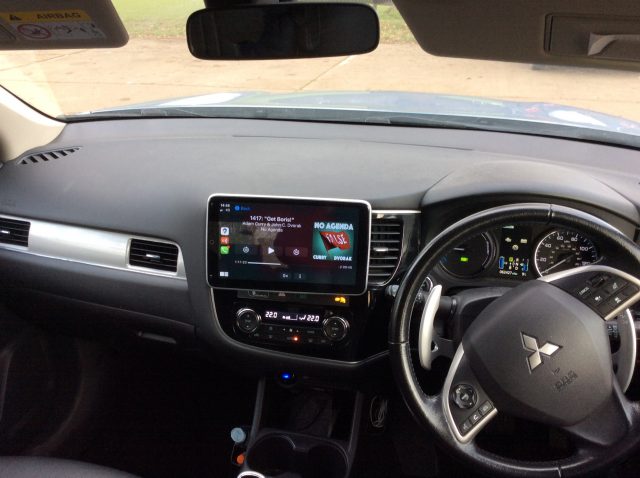 A (slightly blurry) view of the unit at night, with the LED strips also, for full effect.
There are various settings to be done on the headunit for setting up the steering wheel controls, and the reversing camera configuration, but within 20mins or so I had everything working as I want.
The TIB110LN is a full Android headunit too, so if you want to exit out of CarPlay you can run regular Android Apps not supported by CarPlay yet like Chrome, Swarm etc.
You'll need to setup connectivity though, as when in CarPlay the unit connectivity comes from the connected iPhone, but when not in CarPlay mode it needs to be connected to a wireless hotspot to provide data connectivity.
Using Apple CarPlay
I have to say I absolutely love CarPlay. Having rich access to all your music, playlists and
streaming
stations is an amazing experience. I've started to use
Siri
more and more too. "Hey Siri play Radio 1" makes
streaming
live music a dream. As I mentioned above I haven't bothered with a DAB tuner yet – if I run into an area of bad data connectivity I have hours of music sync'd to my phone so can just revert to a playlist.
Google Maps for navigation (Apple Maps and Waze are also available) is great – everything is so easy on the large screen. The new split screen added in iOS13 is excellent and lets you navigate and control music/radio at the same time.
My Outlander is a PHEV (Plugin Electric Vehicle) and CarPlay supports
ZapMap
which lets you look up the nearest EV charging point and navigate to it which is also great. Google Maps is bringing EV charging points into its mapping system too which will be helpful.
If anything I wish CarPlay did a little more but some of the limitations are safety based, and I know Apple is looking to introduce new CarPlay updates with each new iOS release so I'm looking forward to seeing what comes.

This post was written by Rob Gordon, an IT geek, gadget lover and blogger. Rob has been using the internets since 1994 when the only streaming video was that coffee pot in Cambridge (rip)….
Follow Rob on Twitter – @robgordon – about.me/robgordonuk